After walking away from merger talks with T-Mobile US Inc., Sprint Corp. and its billionaire controller Masayoshi Son may have just set in motion a possible new variation of dealmaking in the industry. Happy Monday, Charlie Ergen.
Few people are probably more overjoyed than Ergen to see the collapse of Sprint's negotiations with T-Mobile. Discussions between the wireless carriers broke down over the weekend for what feels like the umpteenth time, and now shares of Ergen's Dish Network Corp. are surging on speculation that the satellite-TV service provider and spectrum hoarder could be the beneficiary. Dish and T-Mobile are logical merger partners, after all, and I warned that Ergen could swoop in if Sprint fumbled this again.
This wouldn't be the first time Ergen hit Sprint's people in the jugular. In 2013, he bid against Son for control of both Sprint and Clearwire, a money-losing spectrum owner. Son won -- well, to the degree that you think gaining control of Sprint was a win. But Ergen successfully drove up the price of both targets to Son's chagrin.
It was ultimately Son's decision to pass on the T-Mobile transaction because he didn't want to give up control of Sprint and its spectrum assets. He may see a grander future for the company, but the investment community largely doesn't. It could be devastating to Sprint's stock price if T-Mobile were to team up with another powerful player such as Dish, while Sprint shareholders are left beholden to Son's plan B -- whatever that is.
T-Mobile has the network, Dish has the airwaves. T-Mobile has the brand success, Dish has Sling TV, a streaming app in need of better brand management. But that isn't the only potential combination. T-Mobile could also appeal to Comcast Corp. or John Malone's Charter Communications Inc. -- two cable providers branching into wireless services. And any possible talks between T-Mobile and Dish could even spark a call from Verizon Communications Inc.'s Lowell McAdam to Ergen at Dish.
According to CNBC on Monday, Sprint is open to re-engaging in talks about a deal with Charter. I'm sure it is. But is Charter? Recall, the last we heard from Charter, the company made this dig at Sprint:
We understand why it is attractive for SoftBank, but Charter has no interest in acquiring Sprint.
Of course, the roles would be reversed: SoftBank/Sprint would be offering to buy Charter. Nevermind that it's highly unlikely Malone is willing to hand over his $100 billion cable giant, both SoftBank and Sprint are financially hamstrung, so I fail to see how they even afford such a transaction.
As I said Sunday, Son has a way about him that can make even the boldest or most nebulous goals seem attainable, but is it just talk? So far, as it relates to Sprint, yes. However, he did just persuade a host of highly respected investors to give him $93 billion for his Vision Fund, so there's that.
The Sprint-T-Mobile saga shows us how controlling shareholders' personal interests and egos can trump deal logic, and it doesn't help that a group of stubborn billionaires are pulling the strings. But there's still likely to be more movement in the wireless industry and among its cousins -- the entertainment-media and cable-TV giants. So go ahead, give that merger wheel another spin: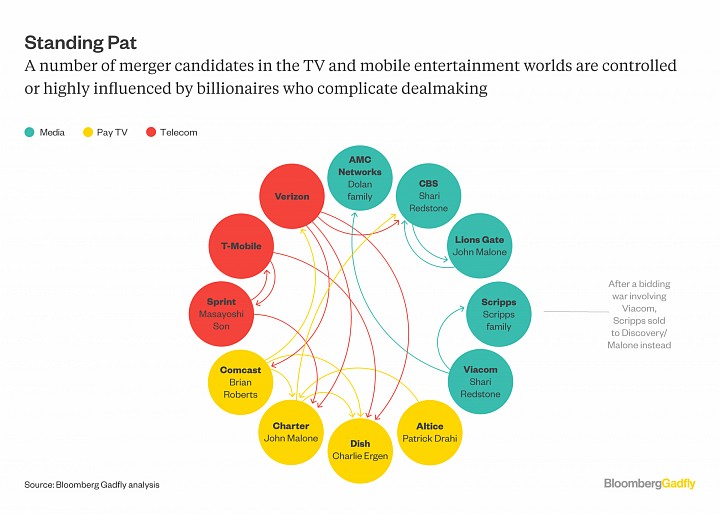 This column does not necessarily reflect the opinion of Bloomberg LP and its owners.
To contact the author of this story:
Tara Lachapelle in New York at tlachapelle@bloomberg.net
To contact the editor responsible for this story:
Beth Williams at bewilliams@bloomberg.net
More