After yesterday's stunning 40% plunge in Goldman's FICC revenue, market watchers and MS shareholders were nervously anticipating the release of today's Morgan Stanley Q2 earnings data. In retrospect, they had no reason to be worried, because moments ago MS reported revenue and EPS which both beat expectations, specifically Q2 EPS of $0.87 (est $0.76) on revenue of $9.5BN vs est. $9.13BN, up from $8.91BN a year ago.
However, with both MS and GS the last two pure-play (more or less) trading houses, the most important number was Morgan Stanley's FICC sales and trading revenue, and unlike Goldman, MS announced FICC revenue for Q2 that just barely beat analyst estimates, reporting $1.24 billion, above the estimate $1.20 billion. This marks the fifth straight quarter of $1 billion-plus revenue, a bar set by CEO James Gorman last year. Similarly, 2Q equities sales & trading revenue of $2.20 billion was flat, but also beat estimates of $2.01 billion, while investment banking revenue of $1.53 billion rose 28%, and was also well above the estimated $1.18 billion. According to the WSJ, MS has "outmaneuvered peers in courting business from so-called "quant" hedge funds that trade huge volumes of stocks in fractions of a second."
But where Morgan Stanley truly triumphed was that for the second consecutive quarter, the bank reported a higher FICC number than Goldman Sachs.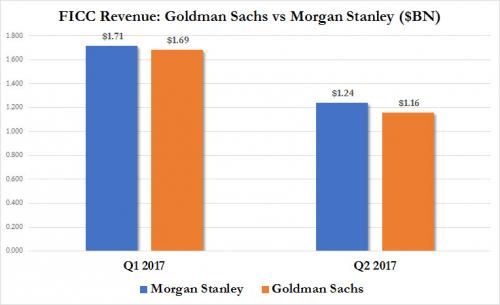 Morgan Stanley reported a 2.1% decrease in trading revenue, the smallest decline reported by any big bank this quarter. At Goldman trading revenue was off by a whopping 17%.
Also in Q2, Morgan Stanley's wealth management business, which manages about $2.2 trillion in client assets, took in $4.15 billion in revenue last quarter, its best second quarter on record as it continues to sweep in client cash and find more profitable uses for it.
Some other Q2 details:
Wealth management net revenue $4.15 billion
Wealth management pretax profit $1.06 billion
Wealth management pretax margin 25%
Compensation expenses $4.25 billion, estimate $4.21 billion
Non-compensation expenses $2.61 billion
Pro forma fully phased-in common Tier 1 equity ratio 15.9%, estimate 16.38% (range 16.2% to 16.6%)
Assets under management $435.0 billion
The CEO was delighted with this second consecutive defeat over Goldman and had this to say: "Our second quarter results demonstrated the resilience of our franchise in a subdued trading environment. Our wealth management business produced a 25% margin and our strong investment banking results attest to the diversity of our global business. We continue to deliver on our strategic goals and grow shareholder returns."
Most importantly, unlike Goldman MS had no reason to come up with excuses why its most important revenue division disappointed.
And, unlike Goldman, Morgan Stanley's shares cheered the results, rising over 2% in the premarket.