The tobacco industry has long been a source of exceptional shareholder returns. In some ways, this is not surprising. The economics of selling cigarettes and other tobacco products are highly attractive.
I'll tell you why I like the cigarette business. It cost a penny to make. Sell it for a dollar. It's addictive. And there's a fantastic brand loyalty.
Philip Morris International (PM) – along with its sister company Altria (MO) – is considered one the 'best of the best' of the tobacco industry. The company has been operating in some shape since 1847 and currently has a dividend yield of 3.5%. These characteristics qualify Philip Morris to be a member of our Blue Chip Stocks List, a group of companies with 100+ year operating histories and 3%+ dividend yields. You can see the full list of blue chip stocks here.
Aside from its blue chip status, there are many reasons to appreciate this stock. Philip Morris' entrenched leadership position in the international tobacco industry and its high dividend yield of 3.5% are two of them. This article will analyze the investment prospects of Philip Morris in detail.
Business Overview & Current Events
The first Philip Morris cigarettes were created in 1854. Since then, the Philip Morris family of companies has had a very convoluted corporate history, with a series of mergers, acquisitions, and spin-offs making it difficult to follow the company's growth over time. The security discussed in this article – Philip Morris International common shares – have been publicly-traded since 2008, when they were spun-off from Altria. The purpose of this spin-off was to separate Altria's domestic and international businesses.
Altria now handles the manufacturing and distribution of its cigarette products in the United States, while Philip Morris International performs the same tasks on an international basis. As a result, the two businesses are often called 'sister companies'. Naturally, Philip Morris has a much higher level of geographic diversification than Altria. It also has a much higher exposure to fluctuations in commodity prices.
The impact of fluctuating exchange rates on Philip Morris' financial performance is hard to overstate; in the most recent quarter, the company announced that currency effects alone should have a 14 cent per share impact on 2017 profits.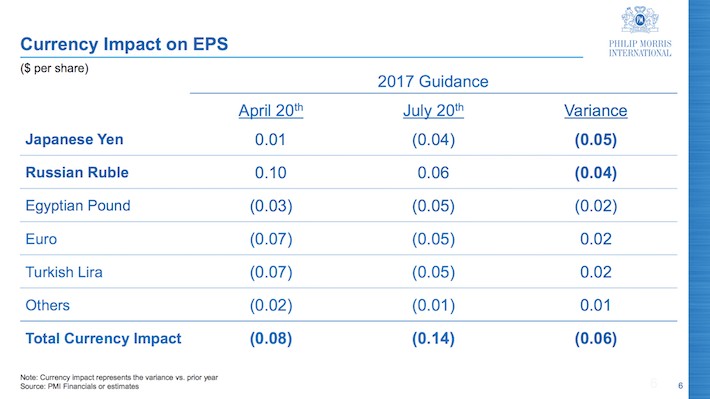 Currency continues to present a headwind for Philip Morris, but the company's performance remains strong. On July 20, Philip Morris reported financial results for its fiscal 2017 second quarter. Adjusted diluted earnings-per-share increased 8.7% from 2016's second quarter, driven by growing market share for its flagship Marlboro cigarette brand and continued growth from its smokeless IQOS products (notably in Japan). The company is expecting ~8% earnings growth in fiscal 2017, robust growth for a...
More