It appears being Special Adviser to Japanese Prime Minister Shinzo Abe comes with great prerssure to toe the line - as opposed to advise. Koichi Hamada yesterday said USDJPY 105 was "appropriate" and USDJPY 120 was "too weak"... that sent USDJPY tumbling. These comments were reiterated in the early Asia session and adding that he "doesn't think JPY will weaken much further." We wake up this morning and reuters reports that he has entirely flip-flopped his views saying now that "120 is appropriate," and that he " would not oppose further easing." It's clear someone got a tap on the shoulder...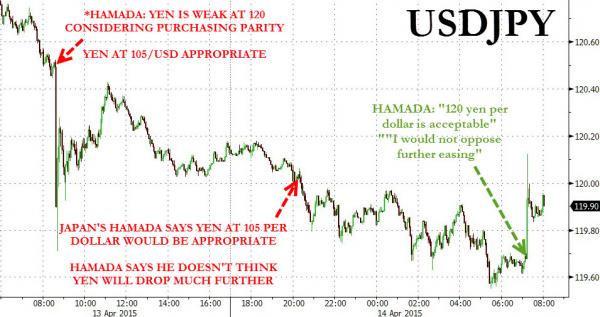 Yesterday:
*JAPAN'S HAMADA SAYS YEN AT 105 PER DOLLAR WOULD BE APPROPRIATE
*JAPAN ABE ADVISER SAYS YEN AT 125/DOLLAR WOULDN'T BE JUSTIFIED
*HAMADA: YEN CAN DEVIATE 10%-20% FROM ITS APPROPRIATE LEVEL
*HAMADA SAYS HE DOESN'T THINK YEN WILL DROP MUCH FURTHER
Today:
The yen is fairly valued around current levels, a key economic adviser to Prime Minister Shinzo Abe said on Tuesday, a day after comments he made were taken to mean the yen was too weak.

 

"120 yen per dollar is acceptable," Hamada said in an interview.

 

"I would not oppose further easing on April 30, because inflation won't be generated even if the central bank eases again," he said. "But I would not on my own oppose the BOJ adopting monetary easing for now."
Stil trust what they say?
Chart: Bloomberg