Shares of CME Group will reach $105 in medium term

12 march 2015
I remain upbeat about the shares of CME Group, an operator of the world's leading and most diverse derivatives marketplace. The company's financials for the fourth quarter of 2014 were strong. Revenues increased 22.4% y-o-y to $841.1 mn slightly exceeding consensus estimate of $836 mn. The upside was primarily attributable to robust improvement in clearing and transaction fees and trading volumes driven by growth from OTC initiatives, partially offset by lower average rate per contract. Moreover, incremental revenues from market data and information services, and from access and communication fees boosted results. CME Group's average daily volume jumped 31% y-o-y to 14.8 mn contracts in the reported quarter led by higher contracts across all asset classes. Notably, international volumes grew about 50%. Operating income escalated 45.9% y-o-y to $471.5 mn, and operating margin improved to 56.1% from 47% in the year-ago quarter. Adjusted earnings per share surged 48.4% y-o-y to 95 cents and were 2 cents ahead of analysts' average forecast.
As of Dec 31, 2014, CME Group had $1.44 bn of cash and marketable securities, while long-term debt was $2.1 bn. In February, the board of the company hiked its regular quarterly dividend by 6.4% to 50 cents, which implies indicated dividend yield of 2.1%.
I believe that increasing trading volumes and non-transaction revenues combined with aggressive focus on improving execution and enhancing efficiency will continue to drive CME Group's financials going forward. Recently, the company announced that its February volume averaged 15.8 mn contracts per day, up 13% y-o-y and representing the all-time highest February average daily volume. Besides, in March, CME Group issued senior unsecured notes worth $750 mn, which carry an interest rate of 3.00% and are slated to mature in 2025. Management intends to use the net proceeds to redeem, buy back or retire before maturity all its 4.40% senior notes worth $612.5 mn. In my opinion, it is a prudent approach by the company to issue notes at lower coupon rate taking advantage of the low interest rate environment and buyback debts of higher coupon, thereby lowering its interest burden.
With target price of $105, CME Group's shares, I believe, look nice for medium-term investment.
<!== INSTRUMENT %% %1440% ==!>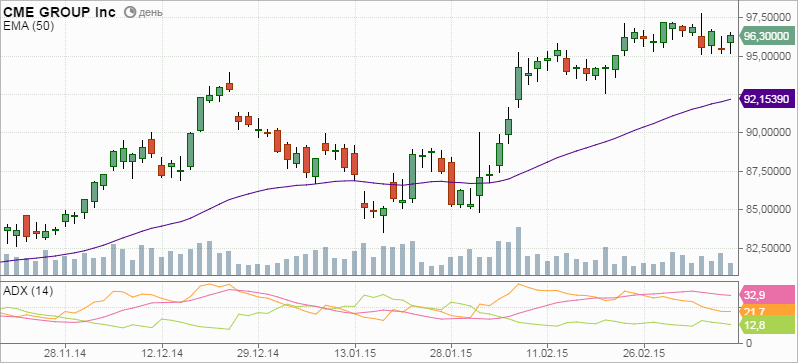 Voting is over
Waiting for


the right answer