The transportation sector is riding high on second-quarter financial results, with total earnings from 97.8% of the sector's total market capitalization that has reported so far are up 9.6% on revenue growth of 10%. Both revenue and earnings surprises of 76.9% also seem impressive.

This is because most of the industry players dominating the sector managed to beat our estimates on earnings or revenues or both, while a few lagged (read: 3 ETFs Loaded with Positive ESP Stocks).

For a better understanding, let's dig into the earnings results of some well-known industry players:

Transportation Earnings in Focus

The world's largest package delivery company – United Parcel Service UPS – topped our estimates on both fronts. Earnings of $1.58 surpassed our earnings estimate by 12 cents while revenues of $15.75 billion edged past our estimated $15.48 billion. For the current fiscal 2017, the company continues to expect earnings per share in the range of $5.80–$6.10. The Zacks Consensus Estimate at the time of earnings release was pegged at $5.95.

The major railroads – Union Pacific UNP) and Kansas City Southern KSU – beat on both the top and the bottom lines while Norfolk Southern Corp NSC lagged on revenues. UNP and KSU surpassed our earnings estimate by 8 cents and 7 cents, respectively, and revenue estimates by $87 million and $33 million. On the other hand, earnings of $1.71 at NSC trumped the Zacks Consensus Estimate by 7 cents while revenues of $2.637 billion were marginally below our estimated $2.642 billion.

Ryder Systems R, the leader in supply chain management and fleet management services, beat our earnings estimate by 7 cents and revenue estimate by $24 million (see: all the Industrials ETFs here).

The two largest U.S. airlines – Delta Air Lines DAL and United Continental UAL – reported varied results. Earnings of $1.62 and revenues of $10.79 billion at Delta missed our estimates of $1.66 and $10.85 billion, respectively. At United Continental, earnings per share of $2.75 came above the Zacks Consensus Estimate of $2.72 and revenues of $10 billion were ahead of our estimated $9.96 billion.

Last but not the least, earnings for the leading trucking carrier – J.B. Hunt JBHT – came in below the Zacks Consensus Estimate by 4 cents and revenues were $6 million below our estimate.

ETFs in Focus

However, strong results failed to boost transport stocks as the sector saw 2.4% average decline (average price difference between a day before and after the earnings announcement of a stock) in response to earnings announcements. Given this, both transport ETFs, iShares Dow Jones Transportation Average Fund IYT and SPDR S&P Transportation ETF XTN, saw rough trading over the past one month. IYT shed 3.7% while XTN was down 2.2%. Both funds have an unfavorable Zacks ETF Rank of 4 or 'Sell' rating with a High risk outlook.

IYT

The fund tracks the Dow Jones Transportation Average Index, giving investors exposure to a small basket of 20 securities. The fund has a certain tilt toward large cap stocks at 55% while mid and small caps account for 28% and 18% share, respectively, in the basket. Though the product is heavily concentrated on the top firm – FedEx (FDX) – at 13.7%, the in-focus eight firms collectively make up for 46.7% of the portfolio. From a sector perspective, air freight & logistics takes the top spot with 29.8% of the portfolio while railroads, airlines and trucking round off to the next three spots with double-digit exposure each. The fund has accumulated nearly $842.7 million in AUM while sees solid trading volume of more than 342,000 shares a day. It charges 44 bps in annual fees (read: Transport ETF Hits New 52-Week High).

XTN

This fund tracks the S&P Transportation Select Industry Index, holding 45 stocks in its basket. It is skewed toward small caps at 55% while the rest is split between mid and large caps. As a result, the in-focus firms account for over 2% share each. Further, about 36.4% of the portfolio is dominated by trucking, while airlines takes one-fourth share. Airfreight & logistics, and railroads also make up for a double-digit allocation each. With AUM of $176.5 million, the fund charges 35 bps in fees per year from investors and trades in a moderate volume of around 33,000 shares a day.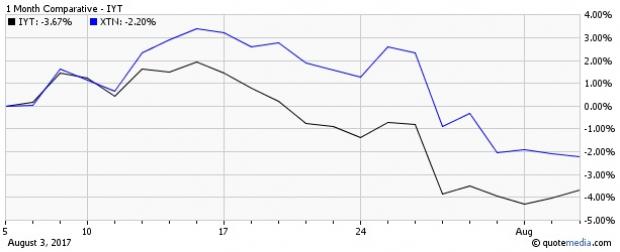 Want key ETF info delivered straight to your inbox?

Zacks' free Fund Newsletter will brief you on top news and analysis, as well as top-performing ETFs, each week. Get it free >>
Want the latest recommendations from Zacks Investment Research? Today, you can download 7 Best Stocks for the Next 30 Days.
Click to get this free report
Delta Air Lines, Inc. (DAL): Free Stock Analysis Report
United Continental Holdings, Inc. (UAL): Free Stock Analysis Report
Ryder System, Inc. (R): Free Stock Analysis Report
Kansas City Southern (KSU): Free Stock Analysis Report
Union Pacific Corporation (UNP): Free Stock Analysis Report
Norfolk Souther Corporation (NSC): Free Stock Analysis Report
J.B. Hunt Transport Services, Inc. (JBHT): Free Stock Analysis Report
ISHARS-TRAN AVG (IYT): ETF Research Reports
SPDR-SP TRANSPT (XTN): ETF Research Reports
United Parcel Service, Inc. (UPS): Free Stock Analysis Report
To read this article on Zacks.com click here.
Zacks Investment Research
Want the latest recommendations from Zacks Investment Research? Today, you can download 7 Best Stocks for the Next 30 Days. Click to get this free report