European stocks fell the most in eleven weeks as health-care companies tumbled amid concern tougher American tax rules will erode their takeover appeal and as manufacturing growth slowed in the euro area.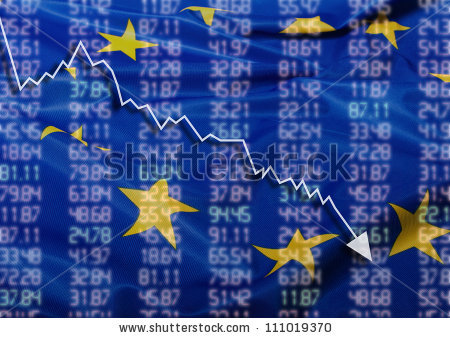 All the 19 industry groups on the Stoxx Europe 600 Index declined. Shire Plc and AstraZeneca Plc lost at least 2.5 percent after the U.S. made it harder for companies to move their tax base abroad.Raiffeisen Bank International AG (RBI), the foreign lender with most at risk in Ukraine andRussia, plunged the most since September 2011 after predicting an annual loss. Tate & Lyle Plc (TATE) tumbled the most in almost seven years after forecasting annual profit that missed analysts' estimates.
The Stoxx 600 slid 1.4 percent to 341.89, its biggest retreat since July 8. The gauge fell yesterday after China damped speculation it will boost stimulus.
"Inversions are a big political issue for the U.S. and politicians want to address them before mid-term elections," David Wartenweiler, chief investment officer at Habib Bank AG, said by telephone from Zurich. "The market is reacting to the announced rules. Health care has also performed surprisingly well, so it's an excuse to take some profits."
The volume of shares changing hands in Stoxx 600-listed companies was 20 percent greater than the 30-day average for this time of the day, according to data compiled by Bloomberg.
Hopscotch Loans
The Treasury Department's new rules will apply to cross-country deals that close any time from yesterday and include a prohibition on "hopscotch" loans that let companies access foreign cash without paying U.S. taxes. They also curb companies' ability to make such transactions qualify for favorable tax treatment.
A gauge of European health-care companies slid 1.3 percent. AstraZeneca, the drugmaker that was the target of a failed bid by Pfizer Inc., declined 3.6 percent to 4,414 pence. Shire, which agreed in July to be bought by AbbVie Inc., dropped 2.5 percent to 5,100 pence. Smith & Nephew Plc, a maker of artificial hips and knees that had been a potential target for Stryker Corp., lost 2.8 percent to 1,038 pence.
A preliminary report from Markit Economics showed that a purchasing managers' index for manufacturing in the euro area slipped to 50.5 this month from 50.7 in August. Economists in a Bloomberg News survey forecast the measure would drop to 50.6.
ECB Obstacles
Next month, European Union judges will review oral arguments in a German challenge to a European Central Bank bond-buying plan called outright monetary purchases. The court case has fueled investor concern that the central bank will face obstacles in plans to support the recovery.
"PMIs were not great in Europe -- yet more confirmation that they overstated growth so far this year," Ioan Smith, managing director at KCG Europe Ltd. in London, said in an interview. "The announcement that the ECB's OMT challenge will be heard at the EU's top court on Oct. 14 served as a reminder that any broad-based ECB asset-purchase program would likely also run into legal problems."
National benchmark indexes fell in all 18 western-European markets except Iceland. Germany's DAX lost 1.6 percent, while the U.K.'s FTSE 100 Index dropped 1.4 percent. France's CAC Index slid 1.9 percent.
Raiffeisen tumbled 10 percent to 17.79 euros. The conflict in Ukraine has caused bad-debt charges to rise faster than expected, the Vienna-based lender said late yesterday. Loan loss provisions will rise to as much as 1.7 billion euros ($2.2 billion) this year, compared with 1.15 billion euros in 2013.
Profit Forecast
Tate & Lyle slumped 17 percent to 610 pence, its biggest plunge since September 2007. The company said adjusted pretax profit for the year will be no more than 245 million pounds because of a disruption to its supply chain and increased competition for its Splenda sweetener. That's lower than the median Bloomberg estimate of 288 million pounds ($472 million).
Tesco Plc (TSCO) lost 4.2 percent to 194.5 pence, extending its lowest price since May 2003. The biggest British supermarket chain said Alan Stewart will join the board as chief financial officer today. Tesco plunged 12 percent yesterday after discovering that its profit estimates had been overstated by 250 million pounds for the first half of the year.
Yara International ASA rose 3.9 percent to 325 kroner, a three-year high. The company said it's in merger talks with CF Industries Holdings Inc. to create a fertilizer supplier with $20 billion in sales and to expand in North America.