Blackberry (BBRY) has been retreating after a very sharp bullish swing from March through May. The retreat as we can see on the weekly chart has been sharp as well. But I think there will be support soon.

Blackberry (BBRY) Weekly Chart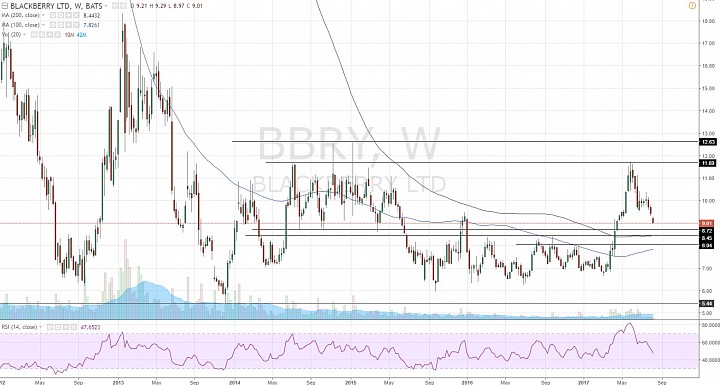 (click to enlarge)

Sideways Market:
- It should be noted that shares of BBRY in recent years have turned from a bearish trend to a sideways one since 2014.
- So, it should not surprise anyone if price does creep back towards those lows around 5.50-6.00.
- But, I think we should also consider some support factors as price retreats towards 8.50.
Support:
- We can see that between 8.00 and 8.75 is a support/resistance zone.
- The 200-week simple moving average (SMA) is right around 8.50.
- Also, as the RSI nears 40, a bullish market should pull back up.
- Yes, the support here would represent a market turning bullish, and we said the market is sideways, not bullish.
- Therefore, this is an aggressive bullish outlook based on prevailing price action.
- Perhaps, that means upside will be limited. Whatever happens afterwards, I think we will see some reaction here around 8.50, whether it be a temporary bounce to 10, or the pivot to a bullish swing to test the resistance around 12.00 again.