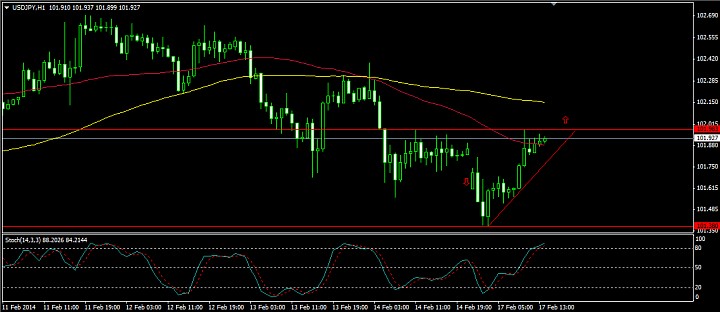 The USD/JPY is heading towards the resistance level at 101.98 trimming its losses generated following the release of GDP data of Japan. USDJPY weakened even after the lower than expected GDP data of Japan because of the weak manufacturing output data and the consumer sentiment data which was released on Friday weighed on the pair. However the pair found support at 101.380.
 According to the GDP data released in Japan, the DP grew .3% in fourth quarter same as in the previous quarter but worse than the expected increase of .7%. The year on year GDP rose only 1% far less than the expectation of a decrease of 2.8%. 
Currently USD is strengthening and the pair is right now seems bullish as shown from the ascending triangle on hourly chart. The pair might break the resistance and continue to follow uptrend. Also the pair is now trading above the 50 day moving average.