Here are six stocks whose charts are showing signs of price acceleration.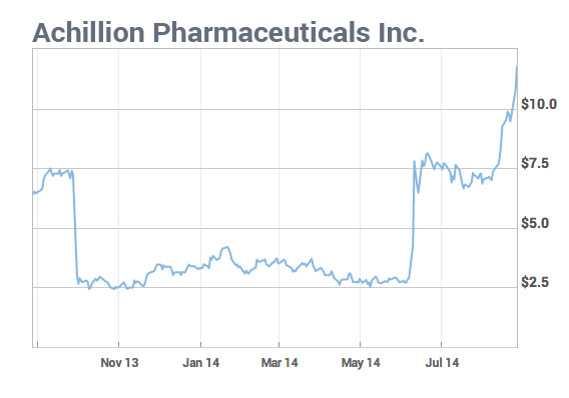 Achillion Pharmaceuticals Inc. ACHN, -2.55% has really performed well for us. It broke out mid month, flagged, and has moved up through resistance in the last two sessions. On Tuesday, it gained 97 cents, or 9%, to 11.75 on 20 million shares, the third consecutive day of increasing volume. The stock has formed a short-term channel that could test 12.50-13.00 as early as Wednesday.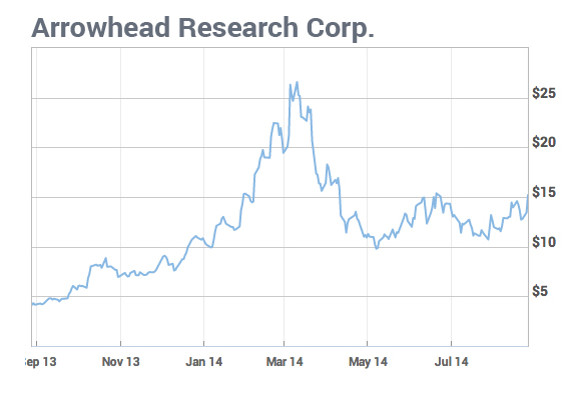 Arrowhead Research Corp. ARWR, -2.81% a big winner for us last year, pulled back in March and April, bounced in May and June, and, after pulling back again, has begun to come on strong in the last month. The last three peaks have come on higher volume, culminating with Tuesday's action, up 1.76, or 13%, to 15.20 on 8.9 million shares. The stock closed right on resistance, the highest close since April, and appears ready to thrust here and test the 18.50 zone quickly. If it can get through that, it could reach the low 20.00s.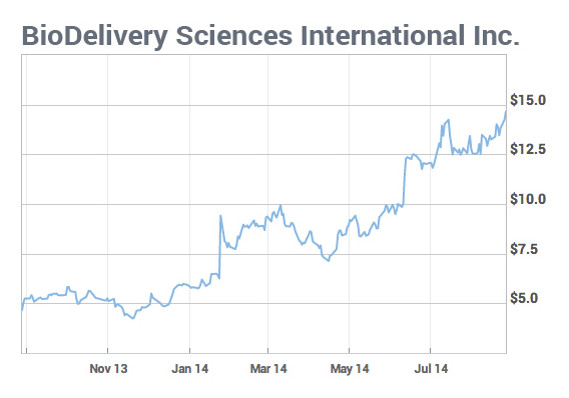 BioDelivery Sciences International Inc. BDSI, +5.59% has made a move in the last few sessions, taking out its double-top highs from July. It was up 41 cents to 14.66 on two million shares on Tuesday, and appears headed up toward 18.00-19.00.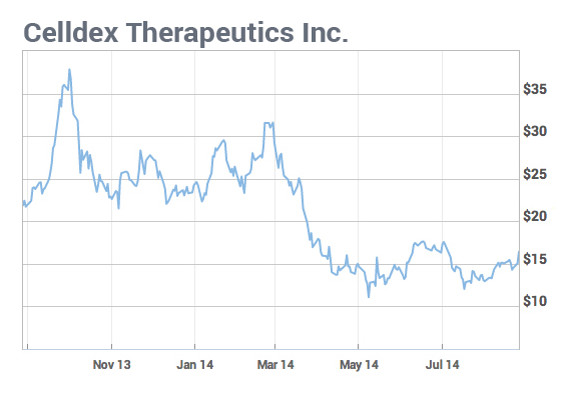 Celldex Therapeutics Inc. CLDX, -1.64% on Tuesday popped 1.37, or 9.1%, to 16.42 on 4.5 million shares, the biggest volume since the beginning of June. The stock, which has been basing after its March-April decline, may be in the process of trying to take out resistance from its June highs just above 18.00. If it gets through 18.00-18.10, look for it to head up toward 21.00, and eventually the mid-to-high 20.00s.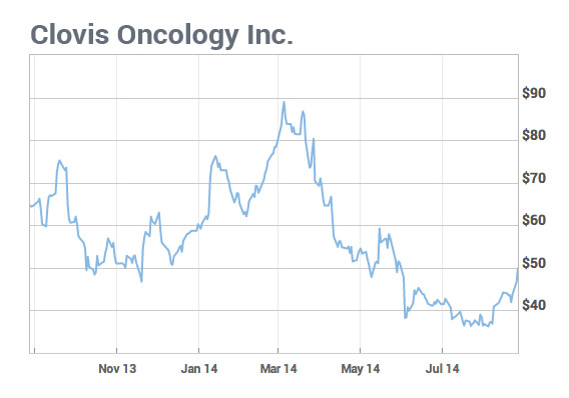 Clovis Oncology Inc. CLVS, -2.57% which had big runup last year, also came down in March and April. The stock based in June and July in a wedge-type pattern, and then broke out and flagged recently before popping on Tuesday. The stock rose 3.21, or 6.8%, to 49.89 on 1.1 million shares. It looks like it could make a move up to the $60 range.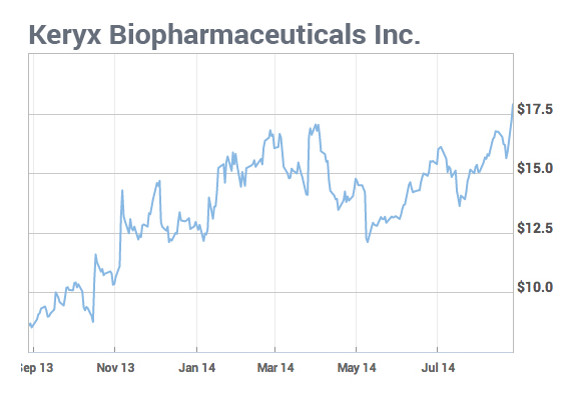 Keryx Biopharmaceuticals Inc. KERX, +1.62% has had a nice, three-day run from 15.44 to 18.16. That took out the prior highs from April, and it appears ready to run more. The targets are 19.00, 21.00, and 23.00.
via marketwatch