The year so far has turned out to be an eventful one for Retail-Consumer Electronic industry. Year to date, the industry has witnessed a sharp gain of 27.4%. Stocks such as Best Buy Co., Inc. BBY, Conn's, Inc. CONN and Systemax Inc. SYX which belong to the aforementioned industry have surged 35.6%, 43.8% and 115.7%, respectively.
However, GameStop Corp. GME also part of the same industry has faltered, evident from its fall of 17.2%. So after observing the company's stock performance, the first question which comes to our mind is why GameStop is lagging behind the industry and how much time will it take to match the industry's performance? Let's delve deeper.
GameStop Vs Industry Scorecard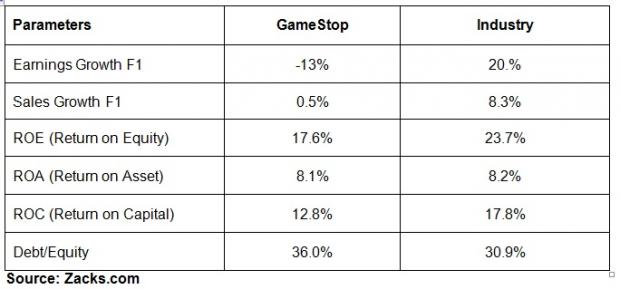 Drab View & Dismal New Software Sales Hurt Stock
Despite reporting better-than-expected first-quarter fiscal 2017 results, the company retained the outlook which investors did not welcome. This can be attributed to the delay in the launch of "Red Dead Redemption: 2" and less visibility for the demand of Nintendo Switch for the entire year. GameStop doesn't expect "Red Dead Redemption: 2" to be launched this fiscal year. The company continues to anticipate fiscal 2017 comps to be in the range of flat to down 5%. For the fiscal year, management also reiterated earnings forecast of $3.10–$3.40 per share, which is considerably lower than $3.77 and $3.90 delivered in fiscal 2016 and 2015.
Further, we note that the bottom line continues to decline year over year. Earnings per share had declined 2.9%, 12.9%, 9.3% and 0.8% in the first, second, third and fourth quarters of fiscal 2016. In first-quarter fiscal 2017, it declined 4.5%. The reflection of the same is evident from the stock's dismal run.
GameStop's basic concern is the weakness prevailing in new software sales, which is heightening apprehensions about the impact of digital downloads on the same. New software sales witnessed 8.2% decline in the first quarter. During fourth-quarter fiscal 2016 conference call, the company stated that it expects new software sales to decline mid-single digits in fiscal 2017.

Revival Strategy
Though the stock has underperformed the industry in the recent times, the stock has all the ingredients to outpace the industry. Both Technology Brands & Collectibles Business are growing at a very rapid speed and can help the company regain its lost position. During the fiscal first quarter, the collectibles business sales surged 39.1% to $114.5 million buoyed by robust sales of Pokémon-related products. The company added nine Collectibles stores during the quarter, taking the total count to 95 stores. We noted that in the fourth and third quarter of fiscal 2016, collectibles brands sales jumped 27.8% and 37.3%, respectively.
Meanwhile, in the first-quarter fiscal 2017 Technology Brands sales jumped 21.5% to $201.4 million driven by year-over-year growth in AT&T authorized retail stores. Technology Brands sales has improved 43.9%, 54.4%, 54.6% and 62.2% in the fourth, third, second and first quarter of fiscal 2016.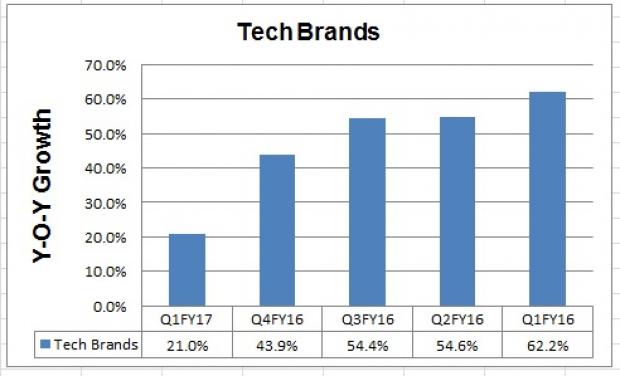 Management anticipates sturdy performance of Technology Brands and Collectibles to continue in fiscal 2017. Management also anticipates Technology Brands' operating earnings to rise over 30% to $120 million during fiscal 2017 and to be $200 million in fiscal 2019. During fourth-quarter fiscal 2016 conference call, the company stated that it expects Technology Brands sales to increase 10–16% in fiscal 2017.
GameStop expects to enhance collectibles business approximately $650–$700 million during fiscal 2017 and anticipates becoming a $1 billion business by the end of fiscal 2019. In the second quarter, Collectibles sales are forecasted to increase by 35–40%. The company remains optimistic about non-physical gaming businesses and expects this category to reach approximately 50% of operating earnings by the end of fiscal 2019.
Conclusion
Dismal New software sales, delay in launch of "Red Dead Redemption: 2" and less visibility for the demand of Nintendo Switch for the entire year are no doubt are causes of worry for investors right now. However, robust performance of both Technology Brands and Collectibles along with management's optimistic view about both these segments may help in offsetting the laggards.
GameStop currently carries a Zacks Rank #3 (Hold). You can see the complete list of today's Zacks #1 Rank (Strong Buy) stocks here.
Will You Make a Fortune on the Shift to Electric Cars?
Here's another stock idea to consider. Much like petroleum 150 years ago, lithium power may soon shake the world, creating millionaires and reshaping geo-politics. Soon electric vehicles (EVs) may be cheaper than gas guzzlers. Some are already reaching 265 miles on a single charge.
With battery prices plummeting and charging stations set to multiply, one company stands out as the #1 stock to buy according to Zacks research.
It's not the one you think.
Want the latest recommendations from Zacks Investment Research? Today, you can download 7 Best Stocks for the Next 30 Days.
Click to get this free report
Best Buy Co., Inc. (BBY): Free Stock Analysis Report
Gamestop Corporation (GME): Free Stock Analysis Report
Conn's, Inc. (CONN): Free Stock Analysis Report
To read this article on Zacks.com click here.