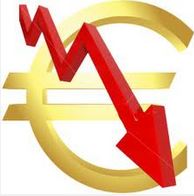 Pada perdagangan valuta asing di hari Kamis (20/03) mata uang
euro telah jatuh ke level rendah 2 minggu terhadap dolar AS
, setelah pengumuman the Fed yang akan menaikan tingkat suku bunga lebih cepat dari yang diperkirakan.
Selama berlangsungnya perdagangan EURUSD telah diperdagangkan 0.44% lebih rendah di level 1.3770.
Pasangan cenderung menembus level support di level 1.3725, dan level resistant di level 1.3815.
Dolar AS reli setelah the Fed mengumumkan bahwa akan memangkas program pembelian obligasinya $10 milyar menjadi $55 milyar per bulan.
Kenaikan suku bunga secara historis telah menjadi hal yang negatif untuk emas, yang tidak dapat bersaing dengan tingkat bunga yang lebih tinggi yang ditawarkan oleh aset lainnya.