Netflix is king of content ... but it's still risky

4 february 2015
Netflix is the comeback kid. Again. It's a story that might play well as an original series on Netflix.
Shares of the streaming video leader are up more than 30% this year and 50% from their 52-week low.
Netflix has quickly become a legitimate content creator and not just a distribution platform. Its original shows "House of Cards" and "Orange is the New Black" are pop culture phenomenons that have also won numerous TV industry awards.
The stock is now only 8% below its all-time high. And with a market value of about $27 billion, Netflix is now worth more than MTV and Nickelodeon owner Viacom  and only slightly less than CBS.
Netflix is officially a big media company. But it's stock performance is anything but big and steady. Shares fell last year after a 278% explosion higher in 2013. But that followed a 24% drop in 2012. (I guess Netflix likes odd-numbered years).
Now investors are excited again after the company reported strong growth in earnings, revenue and subscribers on January 20.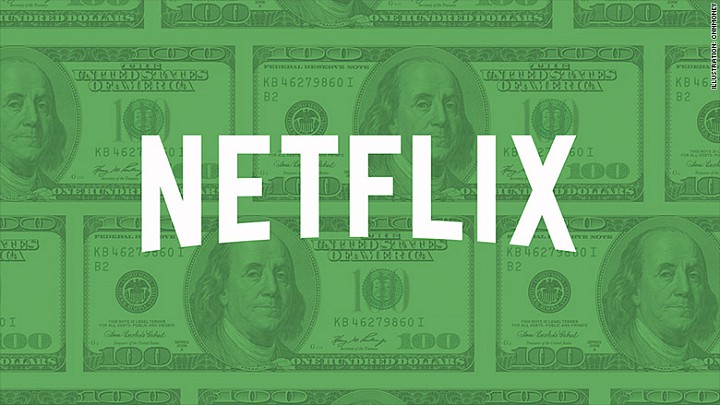 So what's next? The company has already promised even more original shows in the years to come. And it looks like it's found a way to pay for it too.
Netflix sold $1.5 billion in bonds Monday. The company originally planned to sell just $1 billion in debt but increased the size of the deal by the end of the day due to healthy demand.
But is this a risky move for the company? Standard & Poor's thinks so. The ratings agency lowered its outlook and credit rating for Netflix's bonds.
In a report, S&P analysts wrote that "Netflix remains dependent on movie and TV studios for content, and we expect the company to increase its investments in original programming for which success is unpredictable."
Snicker if you want since this is the same S&P that is agreeing to pay $1.4 billion to the government to settle charges that it botched the ratings of securities backed by subprime mortgages before the 2008 financial crisis.
But the analysts raise a fair point.
CNNMoney (New York)