Year-to-date gains in the S&P 500 are heavily coming from a relatively small percentage of stocks within the index, most of which are tech stocks and among the very largest companies in the world.
Just five – Apple (AAPL), Amazon (AMZN), Facebook (FB), Microsoft (MSFT), Google (GOOG)(GOOGL) – collectively account for 34% of the S&P's 8.3% YTD gain.
Philip Morris (PM), Johnson & Johnson (JNJ), Visa (V), Comcast (CMCSA), Home Depot (HD), Broadcom (AVGO), McDonald's (MCD), Oracle (ORCL), and Medtronic (MDT) round out the top half.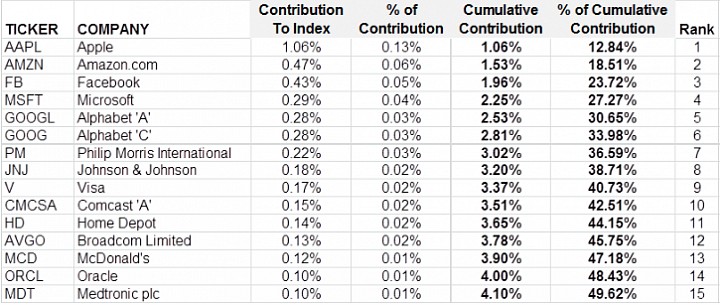 An equally-weighted portfolio of the top 5 companies would have returned 26.9% YTD (77% on an annualized basis).
Equal weighting to the top 15 stocks would have returned 23.8% YTD (67% annualized).