Introduction

Magna International Inc. (Magna), incorporated on November 16, 1961, is an automotive supplier with 313 manufacturing operations and 84 product development, engineering and sales centres in 28 countries. Its product capabilities include producing body, chassis, interior, exterior, seating, powertrain, electronic, vision, closure and roof systems and modules, as well as vehicle engineering and contract manufacturing. The Company operates in North America, Europe and Asia. Its customers include General Motors, Fiat-Chrysler, Ford, BMW, Daimler and Volkswagen. It offers programs, which include Ford Transit; MINI Countryman; Ford F-Series and F-Series Super Duty; QOROS 3; Ford Mustang; BMW X6; Mercedes-Benz M-Class; BMW X4 and Porsche Panamera.
Performance
At the moment, the company's stock is underpriced. Judging by the main investment decision ration, we conclude that the stock price is trading at a lower price than it should be. That being said, Magna has healthy financials, including low Debt/Equity Ratio.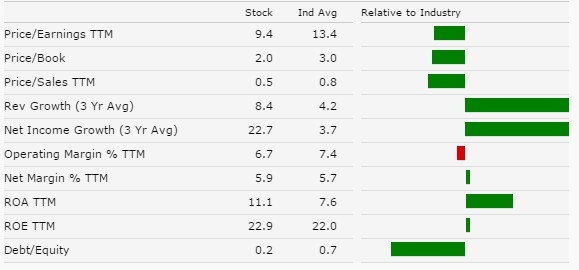 Source: Morningstar.com
During the last 2 years the company faced a bunch of difficulties which reflected in the price. Mainly, Magna suffered when the whole automotive industry did. A shares decline during the last month can be explained by a sales slump. However, it occurred due to a strong dollar. (Magna is a Canadian company reporting in US Dollars. If this is excluded, sales would be 3% higher relative to the last year).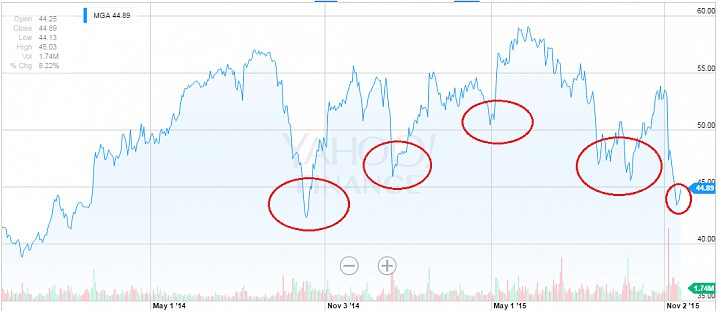 Source: Yahoo Finance
Note issuance
Over the last couple of days shares grew, which is related to the fact that the company announced that it has entered into an underwriting agreement providing for the issuance of €550 million aggregate principal amount of its senior unsecured notes pursuant to an effective shelf registration statement previously filed with the Securities and Exchange Commission.
The notes will bear interest at an annual rate of 1.900% and will mature on November 24, 2023. The offering is expected to close on November 24, 2015, subject to customary closing conditions.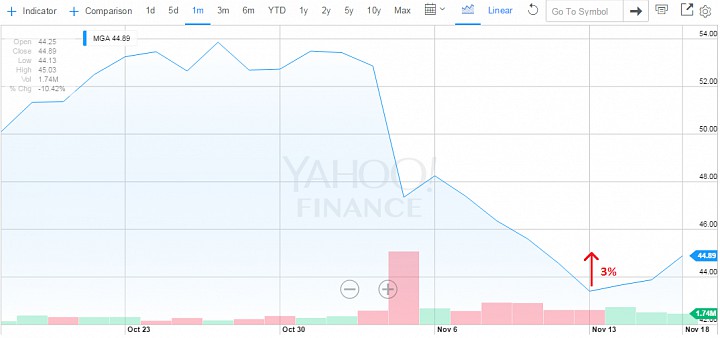 Source: Yahoo Finance
Practice shows that the influence of this factor should not be underestimated: Kratos Defense & Security Solutions, Inc., a leading National Security Solutions provider, announced the commencement of a tender offer for up to $175 million aggregate principal amount of its 7.000% Senior Secured Notes due 2019, dated August 24, 2015, which helped the shares to gain 17% in the short-term.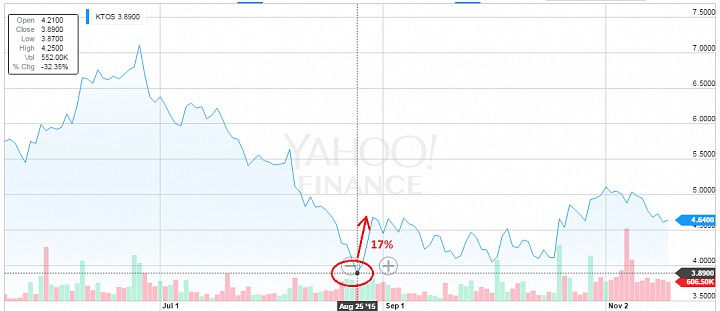 Technical analysis shows that Magna's stock is underpriced with a fair value of 51-53$ (against current 44$).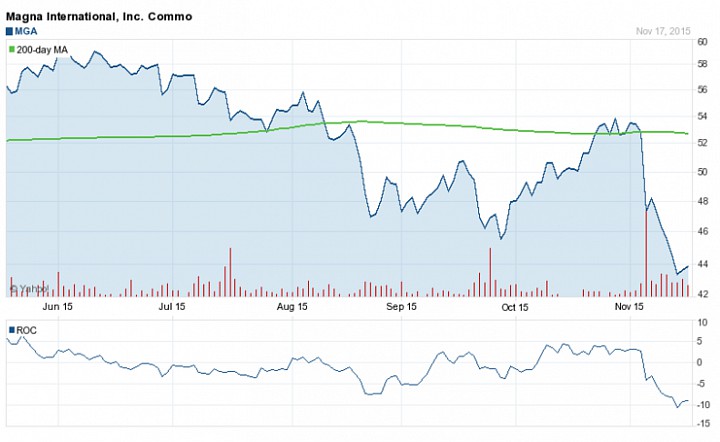 Source: Financialmagazine.com
Dividends
Over the last four years Magna has increased its dividend at an annual rate of circa 15%, with a period of decline in 2012-2014 and higher increases in the most recent years. This growth rate should be loved by investors.
Magna's dividend yield is not outstandingly high, yet it's stable and growing

Source: Ychart.com
Magna's dividend yield of 1.89% is higher than it was over the last year. In combination with Magna's high dividend growth rate the company looks attractive for income investors. Should Magna follow these politics, it will increase its dividend by 15% annually over the next five years, investors could be looking at a 3.6% yield on in five years.
In addition to its dividend payments, Magna also returns cash to shareholders via stock buybacks:

Source: Ychart.com
Magna's number of shares declined more than 15% over the last five years, for an annual decline of circa 3%. This alone increased EPS up by more than 18% over the last five years.
If Magna continues to buy back a substantial amount of shares each year investors will see an attractive boost to EPS growth and thus share price growth.
Conclusion
We recommend to buy Magna due to the fact that the company had an impressive run and its shares have doubled in just three years time. This isn't a sign of an overly optimistic market as it looks like Magna is still priced relatively attractive. It has pretty stable business model which allows to pay almost ever-growing dividends while share price being relatively low (judging by the multiple and technical analyses).
Disclaimer
We are neither holding, nor planning to open any position. We are merely presenting our opinion, intended to be used in the WhoTrades Investment Strategy Contest.