The first-quarter earnings season has crossed the midway point with more and more companies coming out with positive earnings surprises, taking succour from lower estimates and a weakening greenback.  

Per our latest Earnings Trend report, out of the 310 S&P 500 members that have reported as of last Friday, 71.9% of them have beaten earnings estimates with 57.1% beating on the revenue front. However, total earnings for these companies are down 7.2% year over year on a 2.4% decline in sales. First-quarter earnings for S&P 500 companies are now expected to dip 7.3% year over year on 1.1% lower revenues with the Energy sector being a major drag.

A few fertilizer companies are among a bunch of S&P 500 stocks that are lined up to report their quarterly numbers this week. The fertilizer industry falls under the broader Basic Materials sector which is among the sectors that have seen double-digit earnings declines in the first quarter based on the earnings scorecard as of Apr 29. Earnings for the sector participants in the S&P 500 index are down 13% from the same period last year on 9% lower revenues.

The Basic Materials sector is also among 9 of the 16 Zacks sectors that are expected to see negative earnings growth in the first quarter with an expected earnings decline of 15.8% on 8.5% lower sales. Nevertheless, the sector is witnessing improved blended beat which is the proportion of companies that beat both revenues and earnings estimates. Blended beat for the sector for the first quarter is 42.9%, which compares favorably to 4-quarter average of 8.9%.

The general outlook for the fertilizer industry remains cloudy due to insipid economic growth in certain developing markets. Fertilizer makers continue to face challenges from low farm commodity prices, affecting their margins. Weakness in agricultural commodity prices represents a concern for these companies which is hindering fertilizer use by farmers given the adverse effect of lower crop pricing on grower's incomes.

Continued downturn in prices of crops (such as corn and soybeans) is weighing on U.S. farm income. Lower farm income unfavorably impacts grower's purchasing decisions.

Moreover, global capacity expansion continues to exert pressure on urea and other nitrogen fertilizer prices. Elevated supply in the global nitrogen market is pressurizing prices, causing farmers to delay buying activities. The crop protection market also remains under pressure, in part, due to a slowdown in Brazil. Lower insect pressure and reduced seed volumes are contributing to a weakening demand for crop protection products.

While some prominent fertilizer names such as Potash Corp. POT and CVR Partners UAN have already reported their results last week, a number of players in the space are scheduled to report this week.

Let's take a peek at two major fertilizer companies that are warming up to report their results on May 4.

The Mosaic Company MOS, which will report before the bell on May 4, remains exposed to a difficult business environment in agriculture and pricing headwinds. Depressed pricing for potash and phosphate are expected to continue to weigh on its results in the to-be-reported quarter. The company's guidance also indicates a year-over-year fall in sales volumes for phosphate and potash for the first quarter. (Read more: Mosaic Q1: Will Weak Fertilizer Prices Hurt Earnings?)
Mosaic has an Earnings ESP of -21.43% and a Zacks Rank #5 (Strong Sell), making it difficult to predict an earnings beat. Mosaic has beaten the Zacks Consensus Estimate in 3 of the trailing 4 quarters with an average beat of 12.10%.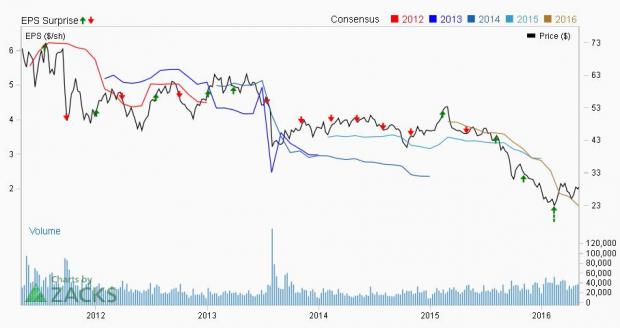 CF Industries Holdings, Inc. CF, which will report its first-quarter numbers after the bell on May 4, continues to see pricing pressure in its nitrogen business. Weak prices for nitrogen fertilizers are expected to weigh on its sales and earnings in the first quarter. Abundant global supply is keeping prices under pressure. (Read more: CF Industries: Will Weak Prices Dent Earnings Again?)

CF Industries' Zacks Rank #3 (Hold) combined with an Earnings ESP of -11.77% makes surprise prediction difficult. The company has missed the Zacks Consensus Estimate in 2 of the trailing 4 quarters while beating twice with an average negative surprise 9.31%.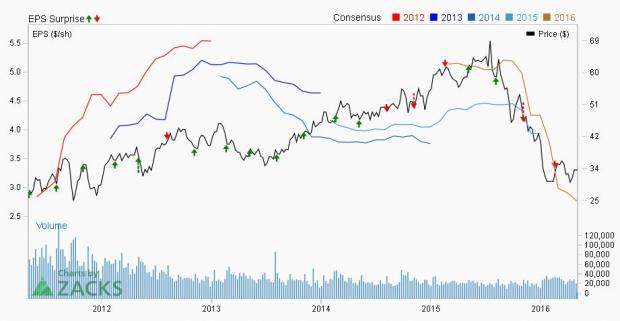 Stay tuned! Check back later for our earnings coverage of these stocks.

Want the latest recommendations from Zacks Investment Research? Today, you can download 7 Best Stocks for the Next 30 Days. Click to get this free report >>
Want the latest recommendations from Zacks Investment Research? Today, you can download 7 Best Stocks for the Next 30 Days.
Click to get this free report
POTASH SASK (POT): Free Stock Analysis Report
CF INDUS HLDGS (CF): Free Stock Analysis Report
MOSAIC CO/THE (MOS): Free Stock Analysis Report
CVR PARTNERS LP (UAN): Free Stock Analysis Report
To read this article on Zacks.com click here.