Lockheed Martin Corp.'s LMT Missiles and Fire Control (MFC) business unit has won a contract for the Special Operations Forces Global Logistics Support Services (SOF GLSS) requirement. The deal has been awarded by U.S. Special Operations Command Contracting office, Tampa, FL.
The $8 billion contract will enable Lockheed Martin to offer non-personal, global logistics support services along with the expertise to maintain program support. The deal will also help to maintain Enterprise management functions for the Program Executive Office of the Special Operations Forces Support Activity.
Work related to this deal will be carried out in Bluegrass Station, Lexington, KY, Bluegrass Army Depot, Richmond, KY, Fort Walton Beach, FL, and Crestview, FL, as well as multiple customer locations both inside and outside the continental U.S. Fiscal 2017 operations and maintenance funds will be utilized to finance the proceeds of the contract.
A Brief Note on SOF GLSS
The SOF GLSS deal is U.S. Special Operations Command's (USSOCOM) largest service contract vehicle providing a wide range of tailored logistics, maintenance and sustainment services. The Program Executive Office of the Special Operations Forces Support Activity (PEO SOFSA) oversees the contract and, under its direction, Lockheed Martin conducts its day-to-day operations, providing the full range of logistics services required to support the SOF community.
Together, PEO SOFSA and Lockheed Martin provide one-stop service for agile, innovative, on-demand depot-like services to SOCOM components and other U.S. Government entities that support SOCOM's missions worldwide.
In 2016 the company submitted a bid for SOF GLSS contract, a competitive follow-on agreement to SOF CLSS and expected to receive an award decision on the same in mid-2017. The recently won deal seems to be in line with Lockheed Martin's expectation.
What's Favoring Lockheed Martin?
Lockheed Martin's MFC business unit is well-known for offering air and missile defense systems along with fire control systems, mission operations support, readiness, engineering support and integration services. In the second quarter of 2017, the MFC business segment generated sales of $1.6 billion, which represented 12.6% of Lockheed Martin's total sales.
Going ahead, the company expects MFC's net sales to increase in the mid-single digit percentage range in 2017 on a year-over-year basis. We believe the aforementioned contract will surely aid the company in achieving this target.
Moreover, being the Pentagon's prime defense contractor, Lockheed Martin enjoys a lion's share of the aerospace-defense space in the U.S. Also, $13.5 billion of the additional $25 billion budget proposal that came from President Trump for core Defense Department programs for the current fiscal, has been allocated for a number of top-rated defense equipments including those of Lockheed Martin's. This in turn, if accepted, will boost Lockheed Martin's revenues growth.
Price Movement

Shares of Lockheed Martin have rallied 14% in the last one year, underperforming the 31.2% rally of the industry it belongs to. This could have been caused by the company's F-35 program, which, despite being a prime project of the U.S. government, has been repeatedly criticized for being overtly expensive. Moreover, Lockheed Martin faces stiff competition from other defense majors like The Boeing Co. BA, Northrop Grumman Corp. NOC and General Dynamics Corp. GD.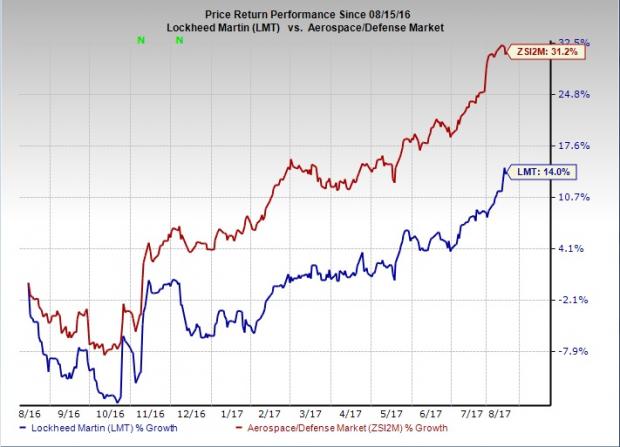 Zacks Rank

Lockheed Martin currently carries a Zacks Rank #3 (Hold). You can see the complete list of today's Zacks #1 Rank (Strong Buy) stocks here.
5 Trades Could Profit ""Big-League"" from Trump Policies
If the stocks above spark your interest, wait until you look into companies primed to make substantial gains from Washington's changing course.
Today Zacks reveals 5 tickers that could benefit from new trends like streamlined drug approvals, tariffs, lower taxes, higher interest rates, and spending surges in defense and infrastructure. See these buy recommendations now >>
Want the latest recommendations from Zacks Investment Research? Today, you can download 7 Best Stocks for the Next 30 Days.
Click to get this free report
Northrop Grumman Corporation (NOC): Free Stock Analysis Report
Boeing Company (The) (BA): Free Stock Analysis Report
General Dynamics Corporation (GD): Free Stock Analysis Report
Lockheed Martin Corporation (LMT): Free Stock Analysis Report
To read this article on Zacks.com click here.
Zacks Investment Research