The Buckle, Inc. BKE has been continuing with sluggish comparable-store sales (comps) performance. Comps for the five-week period ended Apr 1, 2017 fell 10.1% year over year, continuing the declining trend – 23.2% in February, 17.6% in January, 15.5% in December, 16.2% in November, 15.5% in both October and September.
The company generated net sales of $86.8 million in March, down 10.1% year over year. Notably, net sales decreased 23.3% in February, 17.2% in January, 15.1% in December, 15.9% in November, 15.1% in October and 14.8% in September.
Comps for the 9-week period ended Apr 1, 2017 declined 16.1%, while net sales also decreased by an equivalent rate to $149.6 million.
Further, Buckle's disappointing performance was visible from its dismal run in the index. Shares of this retailer of casual apparel, footwear and accessories have plunged 38% in the past one year compared with the Zacks categorized Retail-Apparel/Shoe industry's decline of 21.5%.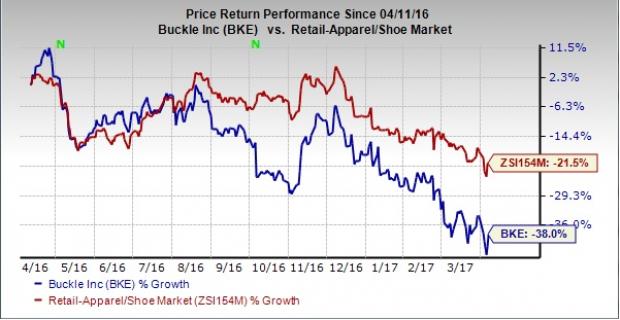 Sales at the company's Men's category, which contributed nearly 47% to Buckle's March sales, tumbled 6.5% year over year. Moreover, the company has not been able to turn the performance of struggling Women's business around. Sales in the Women's category, which represented 53% of the company's monthly sales, slumped 12% year over year.
On a combined basis, accessory sales, which constituted nearly 8% of the company's March sales, dropped 8%, while footwear sales, which accounted for almost 6.5% of net sales, plunged 15%.
As of Apr 6, 2017, Buckle operated 463 retail stores across 44 states.
Apart from Buckle, Costco Wholesale Corporation COST, Zumiez Inc. ZUMZ and L Brands, Inc. LB came out with comparable sales results for the month of March. While comparable sales for Costco and Zumiez increased 6% and 1.1%, respectively, that of L Brands declined 10%.
Buckle currently carries a Zacks Rank #5 (Strong Sell).
You can see the complete list of today's Zacks #1 Rank (Strong Buy) stocks here.
Zacks' Hidden Trades
While we share many recommendations and ideas with the public, certain moves are hidden from everyone but selected members of our portfolio services. Would you like to peek behind the curtain today and view them?
Starting now, for the next month, I invite you to follow all Zacks' private buys and sells in real time from value to momentum...from stocks under $10 to ETF to option movers...from insider trades to companies that are about to report positive earnings surprises (we've called them with 80%+ accuracy). You can even look inside portfolios so exclusive that they are normally closed to new investors.      
Click here for Zacks' secret trade>>
Want the latest recommendations from Zacks Investment Research? Today, you can download 7 Best Stocks for the Next 30 Days.
Click to get this free report
Zumiez Inc. (ZUMZ): Free Stock Analysis Report
Buckle, Inc. (The) (BKE): Free Stock Analysis Report
L Brands, Inc. (LB): Free Stock Analysis Report
Costco Wholesale Corporation (COST): Free Stock Analysis Report
To read this article on Zacks.com click here.
Zacks Investment Research