While we wait for the iPhone 5S to be released to the public on September 20th 2013, lets talk about the stock price. Since September 10th, share has been on free fall, as if markets were expecting a lot more from Apple. However, it must be noted that Stock prices have fell after the release of a number of Apple products. Take a look at the graph below that outline the release of major Apple products from 2007 to mid-2012.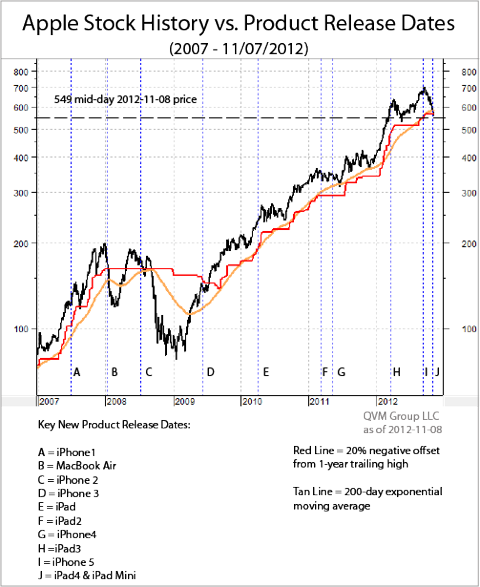 After the first iPhone was released, the stock increased a bit then saw a major decrease. A major prices decrease was evident after the release of the MacBook Air in 2008. Other smaller price drops could be seen for a number of other releases.
It is worth remembering that this company has a solid balance sheet and has a PE of 12. It is up to every investor to determine if it is a buy or sell opportunity.
There is more releases to come this fall, we are expecting the new iPad and iPad mini to be released next month. Apple has also been promising an iWatch.