Not satisfied with fighting pro-Russian separatists, Ukrainians are fighting among themselves in Kiev. As RT reports, Kiev police deployed additional forces around the parliament building after a group of demonstrators started throwing smoke bombs and firecrackers at guards in an apparent reprisal over MPs' failure to honor past nationalists. More than 15 officers have been hurt as far-right protesters clash with riot police at the government buildings on the anniversary of UPA (Ukrainian Insurgent Army). Perhapa more troubling is, if this is the internal tension now, how bad will it get in the winter when they are freezing as Ukraine says it won't prepay for Russian gas.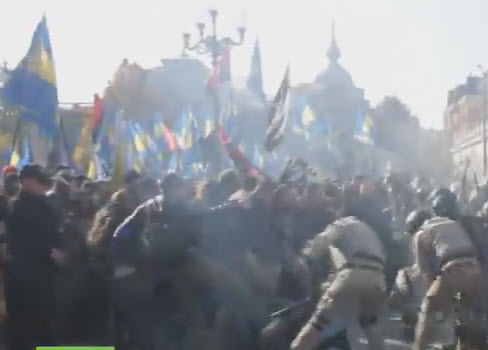 Bats, Chains, and firecrackers...
The protesters launched their offensive shortly after Ukrainian MPs voted against considering a bill, which would treat Ukrainian nationalists, who fought against Soviet troops during World War II, as war veterans.

 

 

Tuesday is the anniversary of the UPA (Ukrainian Insurgent Army), an armed Ukrainian nationalist organization that at one point during the war sided with the Nazis to fight against Russian troops. The organization was accused of war crimes, including the killings of Jews and Poles in Ukraine, and was hunted down after Moscow fought off the Nazi invasion and took control of Ukraine again.

 

 

Modern Ukrainian nationalists from the Svoboda party are celebrating the anniversary with rallies across the country. The party's flags as well as those of the radical Right Sector movement can be seen in the crowd of people encircling the parliament building.

 

 

The bill, which the MPs decided not to consider on Tuesday, would give surviving members of the UPA benefits similar to those given to war veterans. Incidentally, it was submitted by the Svoboda party.
The scenes are ugly...
At the Ukrainian parliament building in Kyiv today pic.twitter.com/auAw9qYEU2

— Hromadske (@Hromadske)

https://twitter.com/Hromadske/status/521982412444950528