In October, bitcoin rallied from a low on the year at 275 up to 418. This bullish correction was able to push price above the 200-, 100-, and 50-period SMAs in the 4H chart and push the RSI above 70. This established some bullish bias and momentum.
Bitcoin (BTCUSD) 4H Chart

Now price entered a congestion triangle. It is losing volatility but should breakout very soon. 

A break above 397 opens up further bullish correction, first with the 418 level in sight. Above 420, the 452 resistance pivot from late September comes into play.

A break below 370 however breaks below some support pivots and clears below the SMAs. If the 4H RSI also dips below 40, we can be looking at a bearish continuation or at least a test the 300 handle down to the 275 low on the year

The anticipated bearish scenario described above for bitcoin has already started in litecoin.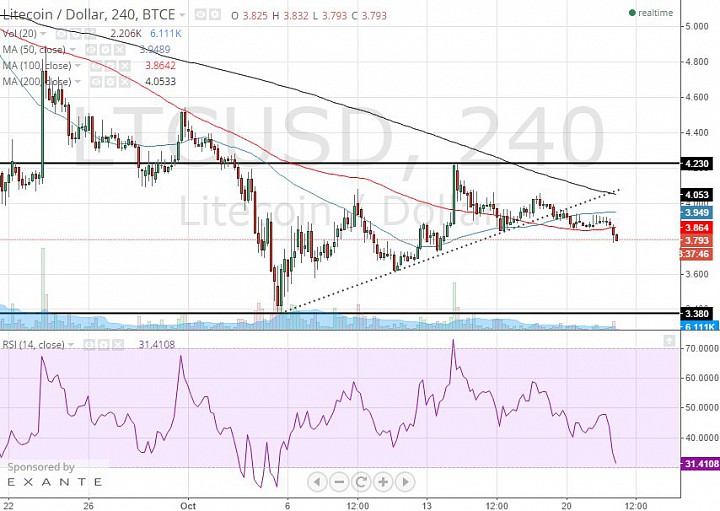 Litecoin (LTCUSD) 4H Chart
As we can see in the 4H chart ,price rallied from 3.38 to 4.23 in October but has since retreated. It has now broken below a rising trendlne and cleared below the 100-, and 50-period SMAs. The 4H RSi also fell below 40, which shows loss of October's bullish momentum.

The bias and momentum in the 4H chart are shifting back to the bearish mode. This opens up the 3.33-3.38 August-October lows. There might be some near-term support at 3.60, but as long as price does not return above 4.0, litecoin should be in a bearish mode. Below 3.30, the 2.21 low on the year comes into play.

Now, if price DOES return above 4.00, we should be looking for further consolidation, and perhaps a bullish correction to retest the 4.23 high again. A break above 4.23 would open up the 4.52 resistance pivot from late September.