American Airlines remains one of the most undervalued stocks in the market.
The company recently announced record September revenue and expects a pre-tax margin of 17%, which should result in strong earnings.
American is undervalued and continues to repurchase shares of its stock. Investors will be rewarded soon in my opinion.
American Airlines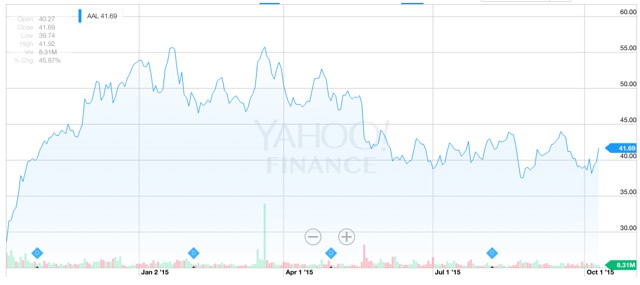 Recent Stock Price: $41.70
Shares Outstanding: 671.82 million
Market Cap: $28.16 billion
52-Week Range: $28.10 - $56.20
There have been a number of recent bullish developments surrounding American Airlines' (NASDAQ:AAL) stock which I feel make the stock a pretty compelling buy here.
For one, American Airlines announced record September traffic, capacity and load factor on Friday. The company said that total revenue passenger miles (RPMs) was 18.1 billion in the month, up 7.2% year-over-year, compared to total capacity of 21.9 billion available seat miles (ASMs) up just 3.7% year-over-year. This follows a strong August, where American reported 21 billion in RPMs, up 5% from last year.
While the Company continues to expect Q3 consolidated passenger revenue per available seat mile (PRASM) to be down approximately 6% to 8% percent year-over-year (a figure which measures how much each seat flown brings in actual revenue) American says that Q3 pre-tax margin is expected to be between 17% to 18%, which is higher than expected.
This is clearly positive news as it means more...
More