The EUR/GBP is setting up in an interesting short-term pattern, which makes me have a bearish inclination in the pair.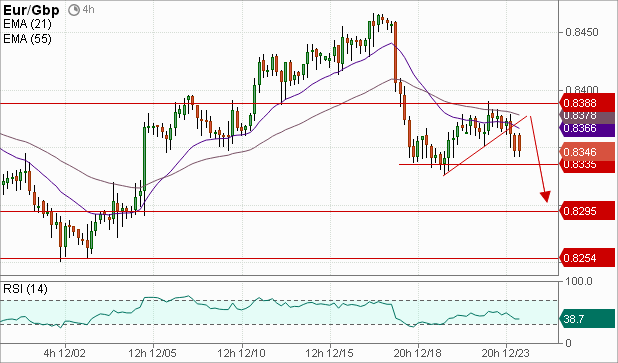 The pair slid fairly sharply last week (on the back of positive UK macro developments).
Since then it found support near 0.8335, and has consolidated/retraced up to 0.3880. The retracement pattern resembled a wedge/triangle pattern, with an upward sloping trendline of support.

To start this week that support trendline was cracked and we are starting to see some followthrough. The fact that price was unable to push above the 55-EMA in this timeframe, that the 21-EMA is below the 55-EMA, and that the RSI was unable to move above the 50 centerline, all suggest bearish bias from a technical standpoint.

If the bearish move continues, the pair will target first the 0.8330 area, and if that level is broken (as is suggested with the downward arrow in the above chart), the pair could move towards the lows set in early December around 0.83 and 0.8255.