Seagate Technology plcSTX reported disappointing fourth-quarter fiscal 2017 results. Both non-GAAP earnings of 65 cents per share and revenues of $2.41 billion missed the Zacks Consensus Estimate of 99 cents and $2.55 billion, respectively.
Seagate also announced the appointment of Dave Mosley as Chief Executive Officer (CEO) and instated current CEO Steve Luczo as the Executive Chairman effective Oct 1, 2017.
Non-GAAP earnings plunged 41% on a sequential basis, primarily due to 10% decline in revenues. On a year-over-year basis revenues fell 9.3%, which reflects intense competition in the Hard Drive Disk (HDD) market from the likes of Western Digital WDC .
Seagate reported fiscal 2017 revenues of $10.77 billion, down 3.5% over fiscal 2016. The company generated approximately $1.9 billion in cash flow from operations and returned 53% of that to shareholders in cash dividends worth $561 million and share repurchases worth $460 million.
Seagate Technology PLC Revenue (TTM)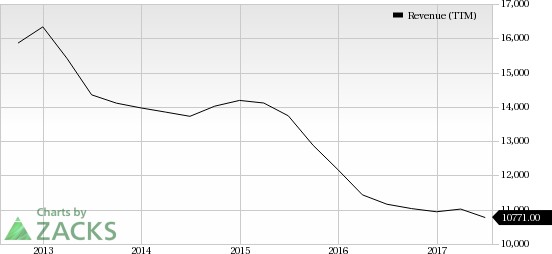 Shares were down more than 18% in pre-market trading following the results. Seagate's stock has gained 4.2% year to...
More