Mallinckrodt plc MNK is set to report second-quarter 2017 results on Aug 8.
Mallinckrodt has delivered an average positive earnings surprise of 5.27% for the four trailing quarters. Let's see how things are shaping up for this announcement.
Mallinckrodt PLC Price and EPS Surprise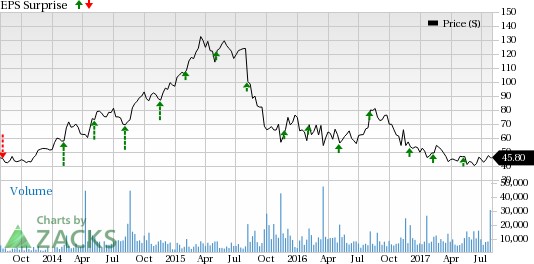 Mallinckrodt PLC Price and EPS Surprise | Mallinckrodt PLC Quote
Mallinckrodt's shares have declined 7.9% in the past six months compared with the industry's fall of 1.4%.

Factors Impacting this Quarter
Mallinckrodt is currently focused on reshaping its product portfolio through strategic acquisitions and non-core asset divestitures. The company sold its Nuclear Imaging business owing to persistent macroeconomic challenges and Intrathecal Therapy business to focus on its key areas. The company is also working on further label expansion of Acthar.
Mallinckrodt's acquisition of Inomax is helping the company to broaden its footprint in hospitals. The drug is the second-largest product for the company and sales are projected to grow in mid-single digits over the long run. Moreover, the acquisition of Therakos has expanded Mallinckrodt's presence from multimodal surgical pain management and critical-care respiratory therapies in neonatal intensive care units. Ofirmev is likely to record strong growth on the back of increased volume.
Acthar is expected to continue its impressive performance fueled by strong demand from patients across several indications like rheumatology, pulmonology and more. The company is also working on expanding its label and reimbursement coverage. It is expected to grow in the mid-single to low double-digit range.
However, Mallinckrodt's Specialty Generics segment continues to be a laggard. The weakness is expected to persist as stiff competition continues to hurt both volumes and prices. The company expects double-digit declines in revenues from this segment to impact gross margins.
The company has achieved positive milestones in its ongoing studies on various pipeline candidates and expansion studies of existing drugs. The FDA granted orphan drug designation to its Duchenne muscular dystrophy candidate, MNK-1411, in July. The company has commenced a phase II and a phase III study on StrataGraft regenerative skin tissue. Also, a phase IV study is evaluating Acthar in relapsed multiple sclerosis. We expect further updates during the company's earnings call.
Earnings Whispers
Our proven model indicates that Mallinckrodt is likely to beat estimates this quarter. This is because a stock needs to have both a positive Earnings ESP and a Zacks Rank #1 (Strong Buy), 2 (Buy) or 3 (Hold) to be able to beat estimates. But that is not the case here, as you will see below.
Zacks ESP: Earnings ESP, which represents the difference between the Most Accurate estimate and the Zacks Consensus Estimate, is +0.58%. This is because the Most Accurate estimate is pegged at $1.74 per share while the Zacks Consensus Estimate stands at $1.73. A favorable ESP serves as a meaningful and leading indicator of a likely positive surprise. You can uncover the best stocks to buy or sell before they're reported with our Earnings ESP Filter.
Zacks Rank: Mallinckrodt has a Zacks Rank #3, which increases the predictive power of ESP.
The combination of Mallinckrodt's Zacks Rank #3 and positive ESP makes us reasonably optimistic of an earnings beat.
Note that we caution against stocks with a Zacks Rank #4 or 5 (Sell rated) going into an earnings announcement, especially when the company is seeing negative estimate revisions.
Other Stocks That Warrant a Look
Here are some health care stocks that you may also want to consider, as our model shows that these have the right combination of elements to post an earnings beat this quarter.
Arena Pharmaceuticals, Inc. ARNA is expected to release results on Aug 14. The company has an Earnings ESP of +5.88% and a Zacks Rank #2. You can see the complete list of today's Zacks #1 Rank stocks here.
Puma Biotechnology Inc PBYI has an Earnings ESP of +3.33% and a Zacks Rank #3. The company is expected to release results on Aug 8.
Syndax Pharmaceuticals, Inc. SNDX has an Earnings ESP of +9.88% and a Zacks Rank #2. The company is expected to release results on Aug 8.
Will You Make a Fortune on the Shift to Electric Cars?
Here's another stock idea to consider. Much like petroleum 150 years ago, lithium power may soon shake the world, creating millionaires and reshaping geo-politics. Soon electric vehicles (EVs) may be cheaper than gas guzzlers. Some are already reaching 265 miles on a single charge.
With battery prices plummeting and charging stations set to multiply, one company stands out as the #1 stock to buy according to Zacks research.
It's not the one you think.
Want the latest recommendations from Zacks Investment Research? Today, you can download 7 Best Stocks for the Next 30 Days.
Click to get this free report
Arena Pharmaceuticals, Inc. (ARNA): Free Stock Analysis Report
Syndax Pharmaceuticals, Inc. (SNDX): Free Stock Analysis Report
Puma Biotechnology Inc (PBYI): Free Stock Analysis Report
Mallinckrodt PLC (MNK): Free Stock Analysis Report
To read this article on Zacks.com click here.
Zacks Investment Research