Those wondering why Apple's favorite sapphire glass maker shockingly went from a market cap of $1.5 billion to $0 (net of 45% of the market cap being shorts trying to cover and pushing the stock price briefly just above $0.00) in the span of milliseconds, such as "smart money" investors Fidelity, Blackrock and Wellington which collectively owned almost 30% of the company...
... will not get an answer for a while, and certainly not from its public filings, all of which provided a picture of a company that was apparently in good health and worth well over $1 billion, thus making one wonder how much 10(b)-5 fraud there is in this bankruptcy.
One certainly won't get it from Stifel's Sven Eenmaa or Cowen's Jeffrey Osborne, both of whom had the stock at a "Buy" as recently as Friday with a $20 and $18 price target.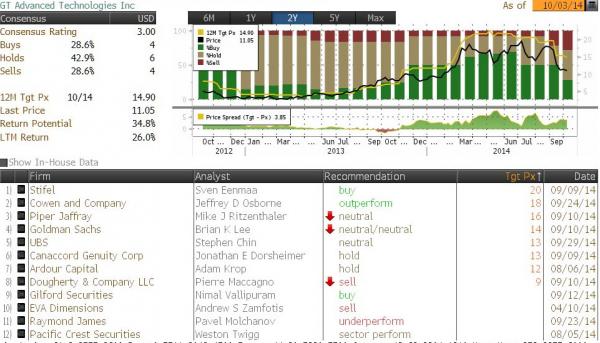 In fact, the only piece of information that provides some clarity on what happened leading to the stunning Chapter 11 filing out of the blue, is the following brief blurb in the first day motions:
EVENTS LEADING TO CHAPTER 11

 

GTAT is facing a severe liquidity crisis due to circumstances that will be more fully described at the hearing on the First Day Pleadings.
Why not explain now? Did "key customer" Apple have something to do with the gag order?
Because as anyone who lost 90% of their equity in seconds earlier today (after listening to others such as Cramer extoll the virtues of the next Bear Steanrs) found out, yes: the company does indeed have a severe liquidity crisis.
In any case, while there is not much there, the full declaration in support of first-day motions is presented below:
The complete GTAT Ex-Parte motion to preserve the company's biggest remaining asset, its NOLs:
We'll spare you the full list of creditors, all 459 pages of them. Suffice to say that Apple is among them.