Genesis Energy (GEL) is a high yielding Master Limited Partnership, with a long history of steady dividends.
There are currently only ~130 publicly traded MLPs available today.The unique tax structure of MLPs allows these vehicles to return more distributions to shareholders than a corporation could.
And Genesis Energy is no exception.It has a current dividend yield of 9.2%.This is an extremely high yield. Genesis is one of 416 stocks with a 5%+ dividend yield.
Not only that, but Genesis has increased its dividend for 47 quarters in a row. It is one of the highest-yielding Dividend Achievers, a group of stocks with 10+ years of consecutive dividend increases.
Genesis is a rare MLP, because it combines a very high dividend yield, with a high dividend growth rate as well. At the same time, there are some concerns regarding the sustainability of the dividend.
Business Overview
Genesis is a midstream oil and gas energy transportation company. It operates primarily in the Gulf Coast region of the U.S.
Genesis operates four individual segments:
Offshore Pipeline Transportation (59% of earnings)
Supply & Logistics (18% of earnings)
Refinery Services (12% of earnings)
Marine Transportation (11% of earnings)
Genesis' offshore business provides services primarily to deep-water producers in the Gulf of Mexico, where economic fundamentals remain strong.
Gulf production continues to increase, which means demand for Genesis' services remains steady.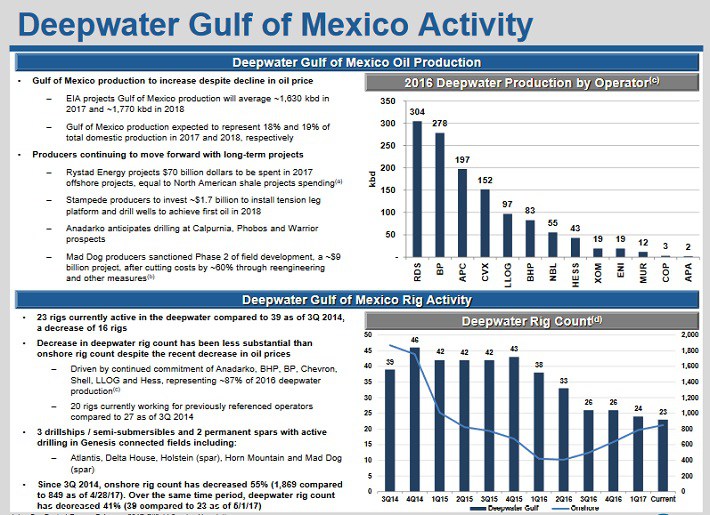 The company's offshore and onshore pipeline businesses, as well as the marine transportation business, have no direct commodity price exposure. This is because Genesis operates primarily fee-based assets.
Genesis performed well in 2016, even with weak commodity prices.
Adjusted EBITDA increased 23% for the year, to $532.2 million, thanks to higher fees and development of new projects.
Genesis is off to a mixed start to 2017, as the company navigates through a period of very high investment.
The Offshore Pipeline Transportation segment continues to be a strong performer, which is a good sign because it is the company's largest business.
Segment earnings increased 11% for the first quarter, due to new production resulting from higher drilling activity. This resulted in higher rates for Genesis'...
More