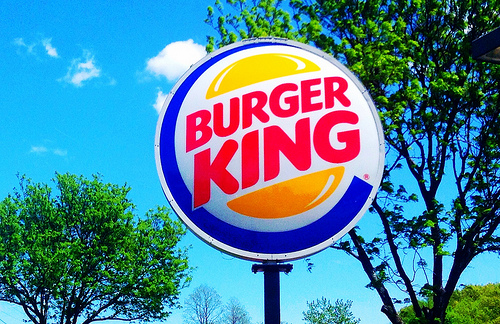 It looks like the Burger King (NYSE: QSR) – McDonald's (NYSE: MCD) feud won't be ending any time soon.
Recently, Burger King purchased two full page advertisements, both in the New York Times and Chicago Tribune, aimed at McDonald's, according to Business Insider. The ads proposed a "McWhopper," a burger created and sold by both fast food giants, to raise awareness for the Peace One Day charity.
The charity is currently campaigning for September 21 to become peace day, and Burger King was happy to suggest an awareness campaign through selling the burgers in conjunction with McDonald's.
However, McDonald's wasn't as psyched.
CEO Steve Easterbrook wasted no time responding to Burger King's advertisement through a Facebook, relaying a snarky-toned answer to the other burger chain.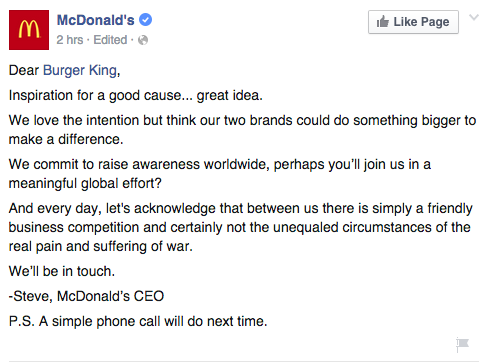 The social media community quickly chimed in, with many citing their disappointment in McDonald's unwillingness to partner with Burger King for a charitable cause, on both Twitter (NYSE: TWTR) and Facebook (NASDAQ: FB).
Clearly these two companies have gone head-to-head for many years, with both sides trying to win the burger wars that exist in the fast food world. However, McDonald's hasn't done so hot lately, with the arrival of a new CEO, and an entirely different marketing plan complete with a changed menu.
At this point, McDonald's needs the most positive PR it can get, and this is a step backwards. A partnership like this, promoting peace, could be the uplifting image the company needs to get customers back in restaurants and through the drive-up windows.
Even if Easterbook believed this project would not have contributed to the long-term goals of the company and wish to opt out, this was not the way to go about it. A snarky Facebook post about a proposed day of peace? Try again, McDonald's.
For more business and financial news, click here.
*This is editorial content and expresses the opinion of the reader.