The chorus of companies complaining against the Fed's strong dollar policy just saw one more addition, when moments ago WalMart- which reported better than expected numbers but disappointing guidance - said that "like many other global companies, we faced significant headwinds from currency exchange rate fluctuations."
A quick look at the numbers: the EPS of $1.61 was a beat to expectations of $1.54. Of course, the GAAP EPS of $1.53 would have been a miss but let's ignore that. Let's also ignore that that WMT's tax rate in the quarter was 29.5%, which compared to the 33% paid to Uncle Sam a year ago, is what allowed it to beat EPS. Perhaps the only unadjusted silver lining in the WMT results was the increase in comp store sales ex-fuel which rose by 1.6% versus the 0.8% expected. This compares to -0.4% a year ago. Oddly enough, WMT also said that the impact of fuel prices on Sam's Club comp stores was a whopping -2.4%. Did gas prices somehow soar in Walmartland without anyone getting the memo?
Anyway, that covers the good news. Now the bad, which again are mostly in the projection area and all mostly due to the soaring dollar.
To wit:
"Along with these significant investments, we expect ongoing headwinds from currency exchange rates during the year. We also consider economic conditions in our various markets and our estimated tax rate in establishing our guidance ranges for the year," added Holley. "After evaluating these factors, we are forecasting earnings per share for the full year of fiscal 2016 to range between $4.70 and $5.05. For the first quarter, EPS will range from $0.95 to $1.10."

 

This guidance compares to $1.10 per share Walmart reported for the first quarter of fiscal 2015 and $4.99 per share for the full year. In addition, Holley said that if currency exchange rates remain where they are today, this would cause a negative impact to fiscal year 2016 net sales of approximately $10 billion, as well as a negative impact on operating income of around $0.10 per share.
Thank the Fed's "strong dollar" policy:
"Given the potential impact of currency headwinds, we expect that our fiscal year 2016 sales growth will be between 1 and 2 percent, versus the 2 to 4 percent we provided at our October investor conference," said Holley. "Our capital expenditure guidance of $11.6 billion to $12.9 billion, which includes investments for stores and e-commerce, remains unchanged. Our net square footage store growth target, excluding future acquisitions, remains unchanged at 26 to 30 million square feet for this year."
So to summarize:
Q1 EPS: $0.95-$1.10 vs Wall Street estimate of $1.14
2016 sales growth of 1-2% vs 2-4% previously
And Full Year EPS of $4.70 - $5.05 vs Wall Street estimate of $5.19.
End result, despite WMT announcing it would increase its quarterly dividend from $0.48 to $0.49, below the $0.50 expected, this: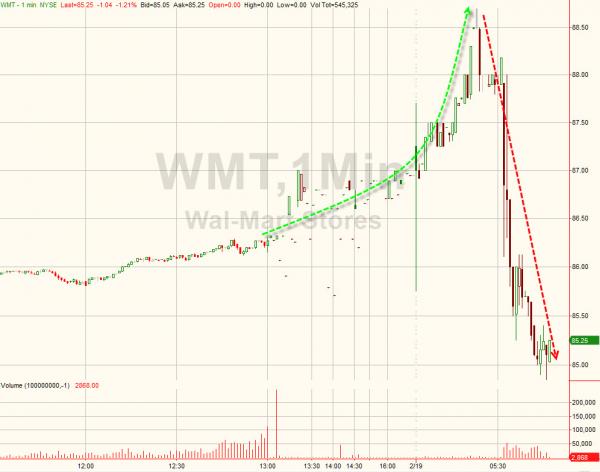 That's what happens when you don't surprise Wall Street pleasantly with a boost in your buyback program. As for the strong USD, check to you, Janet Yellen.