Maybe it is time to look closer at the shares of mining companies, such as gold producers, for example. Let's compare Gold spot price (EOD) chart and HUI chart: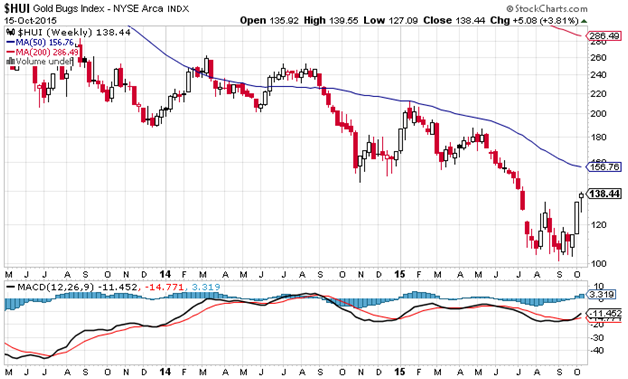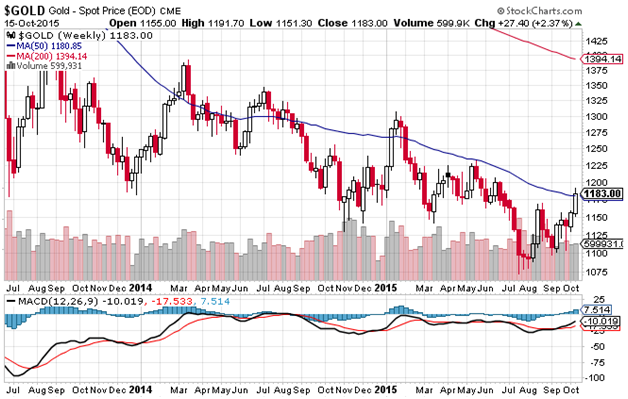 As we can see, HUI is behind EOD, however, it has upside potential. Technically, it seems that gold reversal shapes up, and even if it won't edge up in the near future, it's also unlikely that it will update the lows. Fundamentally, it makes sense to buy gold when the dollar inflation rate exceeds yield of medium-term bonds. Now inflation is below 1%, while the yield on US 10-year bonds is about 2%. It's unlikely that gold has strong upside potential. So, taking into account the current situation, I would recommend to buy not gold, but shares of gold producers. 
Let's see Goldcorp (GG), for example. According to the recent report for 2Q15, revenue increased 34% y-o-y to USD 1,188 mn, net profit rose 116% to USD 392 mn, while adjusted net profit fell from USD 164 to USD 65 mn. Operating cash flow spiked 92% y-o-y to USD 538 mn. Net cash flow reaches USD 174 mn compare to the loss of USD 240 mn last year. The company has already finished its main capital investments and this year they will be reduced to USD 1.2 bn from USD 2.2 bn last year, Goldcorp sharply expanded production this year. According to the company's forecast, it is expected to produce 3.3-3.6 mn oz of gold vs. 2.87 mn oz last year (+15%). Dividend amounted to 56 cents, yielding 3.6% (however, dividend was reduced from 15 cents to 6 cents).
Taking into account the aforesaid, we believe that the name provides an attractive mid-term investment opportunity and rate it as a Buy.
<!== INSTRUMENT %% %1440% ==!>