The bloodbathery in Treasury Bills continues this morning with11/12/15 Bills pushing up to 14bps (from 0bps on Friday).
Despite the "hopes" of Treasury Secretary Jack Lew that the US avoids a crisis, he warns "there's no margin for error" and with GOP Leadership talks still ongoing (as Paul Ryan lays down his demands), it appears markets are not taking any chances for now.
There's no margin for error on the debt-limit timetable, U.S. Treasury Secretary Jacob J. Lew says.

 

Lew speaks at conference in Washington Lew says he's most worried about an "accident" on the debt limit

 

After Nov. 3, U.S. can't borrow any more money unless limit is raised

 

Need to allow majority in Congress to work its will Lew says Congress should increase debt ceiling unconditionally

 

Debt limit can't be used as political 'weapon'

 

Lew says he's hopeful U.S. avoids crisis related to debt limit Govt will be running on cash after Nov. 3
Spot the debt ceiling deadline...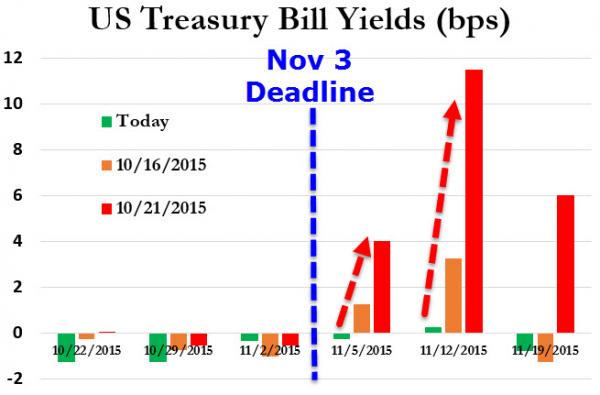 Charts: Bloomberg