As a business unit, the iPad is huge. The device accounted for $31 billion in revenue in Apple's most recent fiscal year. That's more than the annual sales of 84 percent of members of the Standard & Poor's 500-stock index.
Of course, Apple is the world's largest company, so it takes a high-revenue product to make an impact on its income statement. In fiscal 2012, iPad revenue made up about 20 percent of the company's total sales.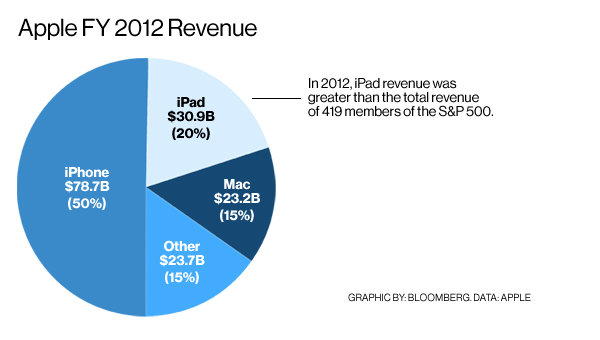 On a quarterly basis, the iPad's importance has varied with the product cycle, but the device has never accounted for less than 11 percent of Apple's total sales.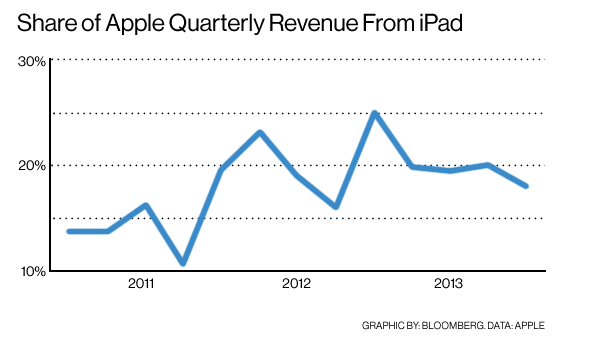 Here's where investors should start paying attention. By at least one measure, as the iPad goes, so goes Apple stock. Quarterly iPad revenue has a 68 percent correlation with Apple's share price. That's higher than the stock's correlations to iPhone revenue (62 percent) or Mac revenue (40 percent).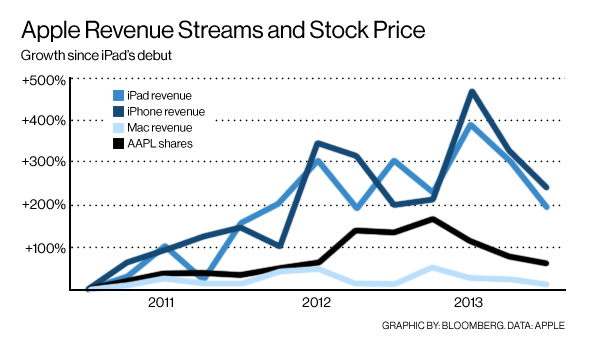 If we consider unit sales rather than revenue, the iPhone becomes a better predictor of Apple's share price than the iPad, but the difference is not enormous: Unit sales of the iPhone are 77 percent correlated with the stock; iPad unit sales are 68 percent correlated.
Source: businessweek.com