Elon Musk's Tesla Motors (TSLA) has been choppy really since 2014. It did make a new high in 2014 at 291, but the weekly chart would tell us that the mode has really been shifting sideways.

TSLA weekly Chart 10/12/2015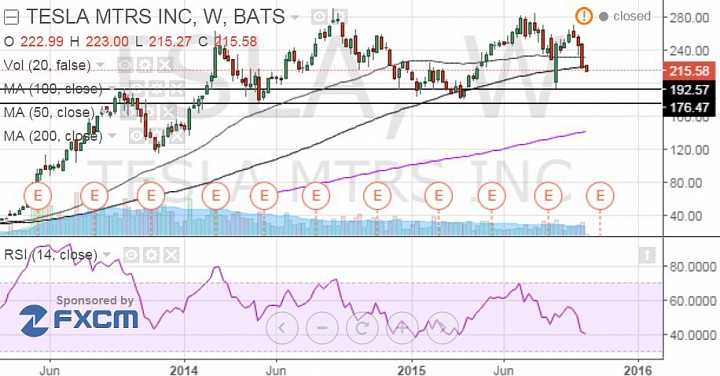 (click to enlarge)
Now, if TSLA has been bullish and is now sideways, then its medium to long-term trend can be considered bullish-neutral. At least, we can say that it is NOT bearish other than in the short-medium-term.

I am starting to lick my chops because the last few weeks have been brutal for TSLA. I believe this dip does not indicate a long-term downtrend in TSLA. Therefore, if price gets into the 175-200 area, I will be looking to buy. A break below 170 on the other hand opens up some late 2013 lows in the 115-120 area. 

I know what some of you might be thinking. Don't try to catch a falling knife.We should indeed wait for some bullish reaction in the 175-200 area before considering buying. Now, to the upside, let's first limit it to 280, which might still be a bit aggressive considering the possibility that TSLA is in a long-term sideways market and price might not get back to the highs around 280 when volatility declines.