Jon and Don Vialoux at the Toronto World Money Show
Join us at the presentation today at 4:00 PM EDT
Interesting Charts
Technical deterioration by gold, silver and precious metal equities was significant yesterday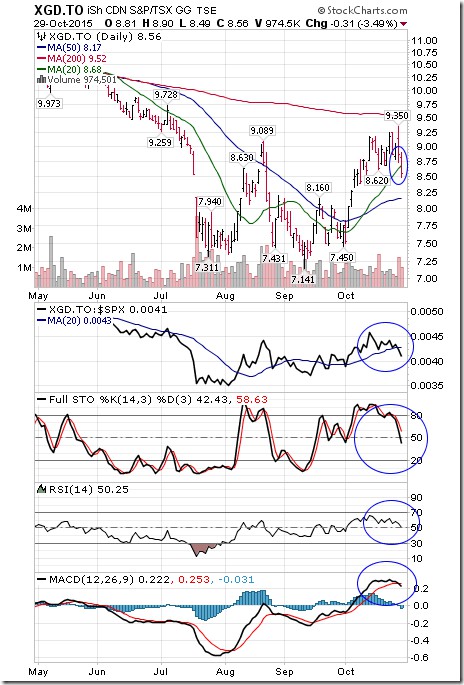 U.S. Treasury prices experienced significant technical deterioration yesterday following the FOMC statement on Wednesday implying an increase in the Fed Fund rate in December. IEF (7-10 year Treasuries) broke support and its 20 and 50 day moving averages. A new intermediate downtrend has been established.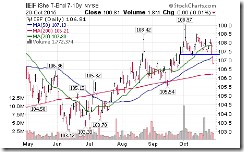 StockTwits Released Yesterday @equityclock
Technicals for S&P 500 stocks to Noon: Bullish. Breakouts: $CBS, $AMT, $GS, $NTRS, $ZION, $BDX, $CELG, $LH, $PRGO, $FMC. Breakdowns: $FFIV, $FE
Editor's Note: After Noon, another four S&P 500 stocks broke resistance: Marathon Petroleum, Thermo Fisher, Time Warner Cable and AON Corp. None broke support.
Days of supply of oil hits the highest level in over 30 years.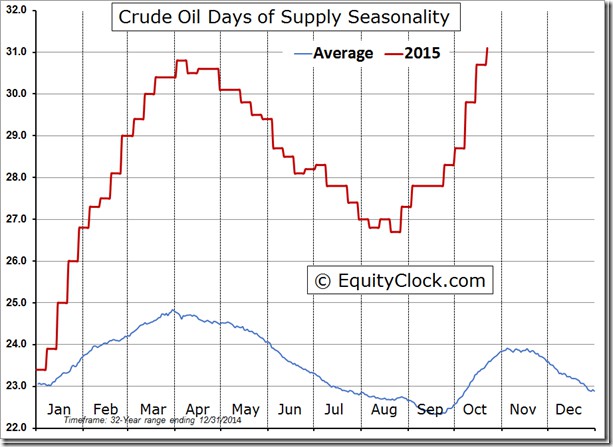 Trader's Corner
Daily Seasonal/Technical Equity Trends for October 29th 2015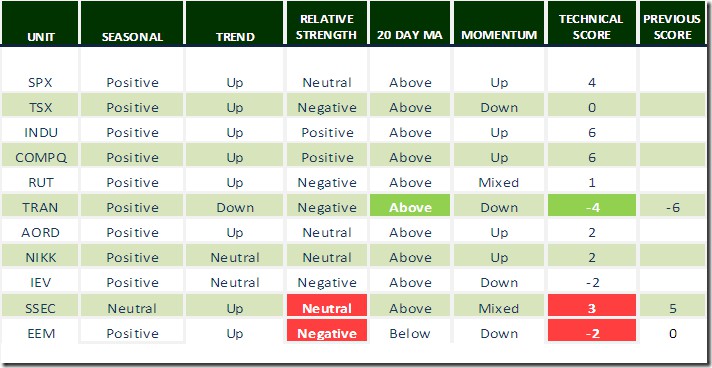 Green: Increase from previous day
Red: Decrease from previous day
Daily Seasonal/Technical Commodities Trends for October 29th 2015
Green: Increase from previous day
Red: Decrease from previous day
Daily Seasonal/Technical Sector Trends for October 29th 2015
Green: Increase from previous day
Red: Decrease from previous day
FP Trading Desk Headline
FP Trading Desk headline reads, "Foreign investors could lift emerging markets in coming months". Following is a link:
http://business.financialpost.com/investing/trading-desk/foreign-investors-could-lift-emerging-markets-in-coming-months
Special Free Services available through www.equityclock.com
Equityclock.com is offering free access to a data base showing seasonal studies on individual stocks and sectors. The data base holds seasonality studies on over 1000 big and moderate cap securities and indices. To login, simply go to http://www.equityclock.com/charts/
Following is an example:
Editor's Note: The period of seasonal strength in Emerging Market ETFs has just started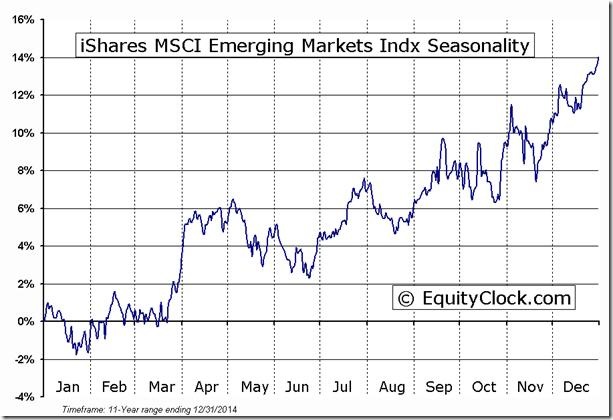 Adrienne Toghraie's "Trader's Coach" Column

Psychology of Handling Change
By Adrienne Toghraie, Trader's Success Coach
During challenging times I have been asked in various ways, "How can I get excited about making the kind of changes in my life that are necessary?" It is natural that people have a resistance to change because it takes a retraining of their whole neurological system to take on a new set of skills and habits. Most people find comfort in the familiarity of their everyday life and only venture out for the unusual in small doses. For a trader whose world has turned upside down, this generally means that his performance in trading will suffer as well.
Feeling cursed
Marco had a right to feel cursed. His wife, Janet, lost her high paying job, which allowed him to be a trader. Marco was laid off from being an engineer, but was happy to make the transition to full time trading. He was showing promise in his trading when everything in his life started to fall apart. Marco found out that Janet was having an affair with her boss. The boss' wife gave her husband an ultimatum to have Janet fired. Eventually, Marco lost his wife when the ex-boss decided he could not live without her.
Marco's son, from a previous marriage, was stealing and selling drugs to keep his cocaine habit going. And to top off Marco's predicament, his house went up in flames in the Santa Barbara fires before he had a chance to sell it. Now he is living with his sister and his son is in rehab. I received a call from Marco, who I knew from his attending one of my seminars. Like the typical trader, in spite of all of his problems, all he wanted to talk about was how to make his trading work for him again.
While others who have called about dealing with change do not have as dramatic a story as Marco, an increasing number of traders are calling me about how to deal with problems related to change.
Here are some of the steps I have given those who have sought my help to handle difficult times where they must change:
· Make a plan as if you were someone else who had all of your good characteristics, talents and resources, but did not have the resistance to change.
(When you operate from a different perspective, you will not have to deal with the emotions that create the resistance)
· Within that plan, have specific easy steps that you can accomplish immediately.
(Easy steps will give you the momentum toward the more difficult steps)
· Enlist people in your life to assist you with carrying out your plan.
(People love to help and feel useful if you do not ask for something that will make them feel uncomfortable)
· Organize your environment.
(This helps you with focus)
· Take a trip in your mind to the end of your life. Look back to this moment in time and see how you not only survived but also thrived in making good choices leading to the life you want to live.
(This gives your neurology a path and creates in you a part that will seek out opportunity)
· Go back to your Trading Business Plan and revisit your rules that have worked for you. If your rules are no longer working, then seek out the help of a Trading Coach. If you cannot follow good rules, then seek out the assistance of a Trader's Coach.……………………
(From this new foundation you can rebuild your strategy and yourself)
· If you must work to support yourself in another profession, then trade full time for only one to two hours a day.
(I know a number of traders who earn more money from their full time 2 hour a day trading profession than they do from their 8 hour job)
Conclusion
The only way to become unstuck and give up difficult circumstances is by taking the initiative to make changes. If your emotions, the feeling of being cursed and not knowing which way to turn are holding you back, then seek out help. You will only make the situation worse by not doing anything. Remember, that taking action as a result of a well-defined plan will lead you toward the changes necessary to have a fulfilling life.

Free Trading on Target Newsletter
More Articles by Adrienne Toghraie, Trader's Coach
Sign Up at – www.TradingOnTarget.com
Disclaimer: Seasonality and technical ratings offered in this report by www.timingthemarket.ca and www.equityclock.com are for information only. They should not be considered as advice to purchase or to sell mentioned securities. Data offered in this report is believed to be accurate, but is not guaranteed.