Late last week, Brazil officially entered a recession as the economy contracted 1.9% in Q2, a quarter in which Brazilians suffered through the worst stagflation in over ten years. 
What was perhaps worse than the GDP print however, was budget data for July which was meaningfully worse than expected. "On a 12-month trailing basis the consolidated public sector recorded a 0.9% of GDP primary deficit in July, worse than the 0.6% of GDP deficit recorded in December and, therefore, increasingly distant from the new unimpressive +0.15% of GDP surplus target," Goldman noted.
We summed the situation up as follows: "No primary surplus for you!" 
And while analyzing LatAm fiscal policy doesn't make for the most exciting reading in the universe, this particular budget battle is critical for a number of reasons, the most important of which is that Brazil's investment grade credit rating might just depend on it and to the extent the country is forced to concede that it will not, after all, hit its primary surplus target this year, junk status could be just around the corner. Needless to say, if Brazil is cut to junk, that will do exactly nothing to help the country combat a bout of extremely negative market sentiment tied to Brazil's rather prominent role in the great emerging market unwind. 
Sure enough, government sources have now confirmed that embattled President Dilma Rousseff - whose political woes are making it nearly impossible to pass legislation designed to plug gaps - will now submit a 2016 budget proposal that projects a deficit. Here's Bloomberg: 
The Brazilian government will send to Congress Monday a budget proposal for 2016 that projects a primary deficit instead of the previously expected surplus, according to two government sources familiar with the matter.

 

President Dilma Rousseff had earlier abandoned the idea of reviving the so-called CPMF tax on financial transactions after a backlash from politicians and companies, said the sources, who asked not to be named because the negotiations aren't public. The goal now is to send a budget proposal that is more aligned with the reality of a sharp economic slowdown, according to the sources.

 

Rousseff was alerted by Vice President Michel Temer in the past couple of days that the current political crisis would make it hard to convince the Congress to pass measures such as the CPMF tax. The government had planned to include the revenue collected from the tax in the budget proposal to be sent to lawmakers on Monday, one of the sources said. The president met with some ministers on Sunday to discuss the new budget proposal, according to the source.
Although, as one analyst told Reuters, "the rating agencies are trying to bend over backwards to give Brazil the benefit of the doubt," there's only so much they can do, especially considering the fact that no one likely wants to set a precedent of being behind the curve as we enter what may end up being an outright emerging markets crisis. And a bit more color from Bloomberg:
The government foresees a deficit next year excluding interest payments of 30.5 billion reais ($8.4 billion), or about 0.5 percent of gross domestic product, Budget Minister Nelson Barbosa told reporters in Brasilia on Monday. That compares with a target of 2 percent at the beginning of the year and a revised objective of 0.7 percent announced in July.

 

The revision reflects the growing political headwinds Finance Minister Joaquim Levy faces in winning congressional approval for austerity measures and pushes Brazil's credit rating closer to junk status, said Italo Lombardi, senior Latin America economist at Standard Chartered Bank. The government over the weekend scrapped plans to revive a tax on financial transactions following opposition by congressional leaders.

 

"Politics are making Levy's life very difficult," Lombardi said by telephone. "It's a big red flag and rating agencies would need to show a lot of patience to not downgrade Brazil."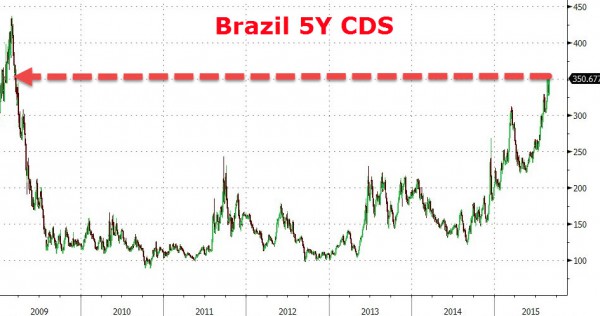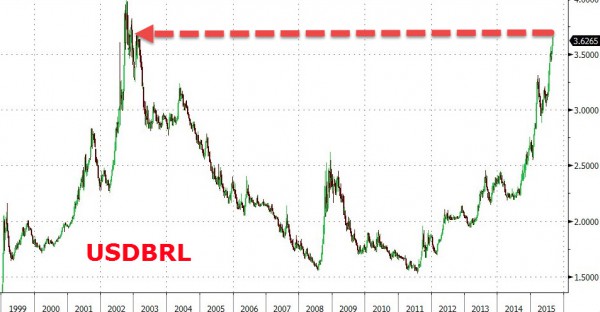 And that, as they say, is all she wrote for Brazil's investment grade rating.
We'll close with the following rather colorful analysis from Citi:
Morning Friends, A Nightmare on Elm Street - one of the scariest movies of my childhood, where Freddy Krueger (a burnt serial killer) used to haunt and execute his victims in their own nightmares, was the origin of asleep nights for many kids of my generation... Well, before I tell you the Nightmares on Via Palacio Presidencial (Brasilia) and what is keeping players asleep, let me voice you that as in any bloody terror film, the villain never dies and the sequels are worse than the initial film. So, the American villain (Fed September Lift-off) is alive, as Vice Chair Fischer suggested over the weekend, sounding less dovish than expected. Also, the Chinese anti-hero (fear of slow growth) never dies, with Korea`s Industrial Production bringing additional woes.

 

As the film says:                     

 

1&2 - Freddy's coming for you!

 

3&4 - Better lock the door…

 

In the meantime, in our (un)beloved country, there is something scarier than Freddy Krueger: our growth / fiscal outlook. The Growth scenario is haunting and executing our policymakers, with limited ability to halt such negative vortex and took our economic team to revise our GDP forecast to -2.7% (-1.7% previous) in 2015 and to -0.7% (-0.2% prior) in 2016. Mr. Market will price a -3% GDP growth figure in 2015… This damaging growth scenario will undermine the political capability to implement any fiscal austerity measure and will undermine the already bloody fiscal situation. With no growth and no fiscal measures, the primary fiscal figure for 2015 & 2016 will be scarier than Freddy Krueger & Jason together… Our view is that the 2015 primary fiscal print will be a deficit of -0.7% GDP (-0.3% previous) and  -0.1% GDP (+0.3% prior) deficit in 2016. Wires are mentioning that the government will send a draft budget proposal with a primary DEFICIT of 0.50% GDP (+0.70% primary SURPLUS target), with the proposal of reintroduction of the financial tax transaction being defeated and President Dilma not approving further spending cuts. The Nightmares on Via Planalto Presidencial must be keeping a lot of kids asleep.

 

Rates are trading 10/51bps wider on back of such bloody fiscal news as Players are pricing the downgrade from the Investment Grade level before year end. As the film says:                     

 

1&2 - Freddy's coming for you!

 

3&4 - Better lock the door…