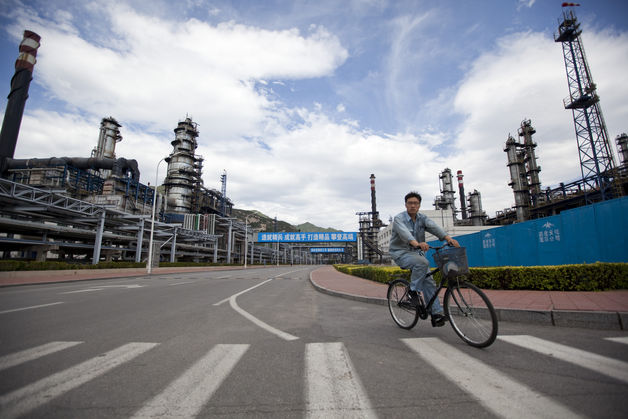 Photographer: Nelson Ching/Bloomberg

Crude oil's steepest crash in almost six years is throwing up a new challenge for China's refiners -- a plunge in the value of their stockpiles.
The oil price drop is adding up to a triple whammy for earnings prospects through the end of the year, for companies already beset by slowing economic growth and state controls on prices. UOB Kay Hian Ltd. yesterday downgraded China's oil sector to underweight from overweight, citing weaker demand forecasts and the lower oil price.
"Refiners' earnings will be impacted and the main reason for that is inventory losses," said Duke Suttikulpanich, a Singapore-based oil and gas analyst at Standard Chartered Bank. "Contrary to common belief, the sharp drop in oil price does not benefit refiners' earnings. And low demand forecasts mean margins aren't expanding."
A fall in crude prices, the raw material used to produce fuels including gasoline and diesel, should typically reduce expenditure and raise profits for refiners. However, weak demand is driving down fuel prices and narrowing those margins. At the same time, the lower oil price is cutting the value of stockpiles accumulated when the market was higher.
China Petroleum & Chemical Corp. (386), Asia's biggest refiner, made about 9 percent of its revenue in the six months ended June 30 from processing crude oil. PetroChina Co. (857), the country's biggest oil and gas producer, had almost 8 percent of sales from refining.
Along with Cnooc Ltd., the two companies are China's biggest oil producers and their upstream operations are getting hit by the plunge in crude. They are now set to lag regional rivals in the battle to make money from refining as well.