Archer Daniels Midland Company ADM posted first-quarter 2017 results, wherein both earnings and sales lagged estimates. While this marked Archer Daniels' second consecutive miss, the company has been missing sales estimates for over three years now. Nevertheless, both sales and earnings increased year over year, driven by growth across all segments, along with operational efficiencies that enhanced the company's overall cost position.

Archer Daniels outperformed the broader Consumer Staples sector considerably in the last one year. Evidently, Archer Daniels' shares rallied 20.4% in the past one year, compared with the sector's growth of nearly 6.7%.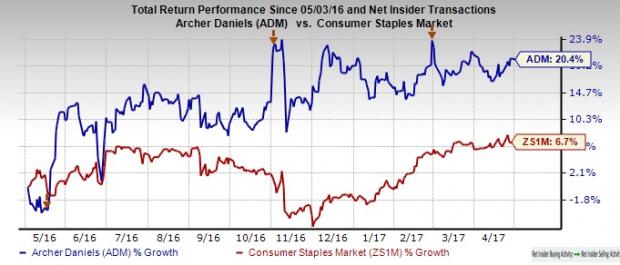 Q1 Highlights

The company's first-quarter adjusted earnings of 60 cents per share soared 42.9% year over year, but fell a penny short of the Zacks Consensus Estimate. On a reported basis, Archer Daniels' earnings were 59 cents per share, up 40.5% year over year.
Archer-Daniels-Midland Company Price and EPS Surprise
 
Archer-Daniels-Midland Company Price and EPS Surprise | Archer-Daniels-Midland Company Quote
Total revenue of $14,988 million advanced 4.2% year over year, thanks to improved sales at most segments. However, the top line missed the Zacks Consensus Estimate of $15,285 million thus continuing with its dismal sales surprise trend.

Going by segments, quarterly revenues at Archer Daniels' Agricultural Services segment were up 5% to $6,806 million, the Corn Processing segment's revenues improved 1.7% to $2,244 million and the Oilseeds Processing segment's revenues rose 5.7% to $5,282 million.  On the other hand, the Wild Flavors and Specialty Ingredients segment witnessed a 5.1% decrease in revenues to $562 million and Other revenues slumped 13% to $94 million, all on a year-over-year basis.

Operational Discussion

Archer Daniels reported adjusted segment operating profit of $678 million in first-quarter 2017, up 18.3% from the year-ago quarter. On a GAAP basis, the company's segment operating profit jumped 18% year over year to $676 million.

On a segmental adjusted basis, operating profit for the Agricultural Services segment rose 15.8% to $88 million, as strong merchandising and handling results were backed by solid North American performance, thanks to the solid global demand for U.S. products. This was partly offset by weakness noted in International merchandising. Transportation results also remained favorable, backed by high volumes, with Milling and Other operations remaining robust too.

Archer Daniels' Corn Processing segment's adjusted operating profit soared 32.6% to $171 million. Results benefited from strength in the sweeteners and starches business, which was backed by robust North American demand and solid volumes and margins at the European operations. Further, favorable ethanol margins and exports drove Bioproducts results. Animal Nutrition results also improved year over year.

The Oilseeds Processing segment's adjusted operating profit increased 20.3% year over year to $314 million. Results gained from improved Asian results and strong soft seeds performance. This however was somewhat offset by reduced soy crush margins and soft refining, packaging, biodiesel and other results. Crushing and origination results were flat.

The Wild Flavors and Specialty Ingredients segment's adjusted operating profit escalated 7.1% to $75 million, on the back of robust sales in the EMEAI and Asia regions. This was somewhat offset by hurdles in the specialty ingredients business.

Financials

Archer Daniels ended the quarter with $476 million in cash and cash equivalents. As of Mar 31, 2017, long-term debt including current maturities was $6,787 million. Shareholders' equity at quarter end was $17,129 million.

During the quarter, Archer Daniels generated $409million of cash from operating activities.

Further, the company's trailing four-quarter average adjusted ROIC came in at 6.4%, up 40 basis points (bps) from the annual WACC of 6.0%.

Additionally, the company returned $431 million to shareholders in the first quarter, in the form of share repurchases and dividend payments, remaining well on track with its balanced capital allocation plan.

Looking Ahead

The company remains on track with long-term strategic plan that was announced in 2012. In this regard, Archer Daniels enhanced its cost structure, solidified its core operations and made significant expansions – both geographic as well as category-wise. These factors helped the company to generate cost savings and gain efficiencies, which in turn drove its first-quarter results. Going forward, management remains confident of sustaining this momentum in 2017.

Zacks Rank & Key Picks

Archer Daniels currently carries a Zacks Rank #3 (Hold).

Better-ranked stocks in the same industry are Adecoagro S.A. AGRO and Limoneira Company LMNR with a Zacks Rank #2 (Buy) each. Another top ranked stock in the broader Consumer Staples sector is Conagra Brands, Inc. CAG with a Zacks Rank #2. You can see the complete list of today's Zacks #1 Rank (Strong Buy) stocks here.

Adecoagro has seen positive estimate revisions for 2017, over the past 30 days.

Limoneira, with long-term EPS growth rate of 15%, has seen estimates for the current fiscal trend upward in the last 60 days.

Conagra, with long-term EPS growth rate of 8%, has outperformed our earnings estimate in the last three quarters.

5 Trades Could Profit ""Big-League"" from Trump Policies

If the stocks above spark your interest, wait until you look into companies primed to make substantial gains from Washington's changing course.

Today Zacks reveals 5 tickers that could benefit from new trends like streamlined drug approvals, tariffs, lower taxes, higher interest rates, and spending surges in defense and infrastructure. See these buy recommendations now >>
Want the latest recommendations from Zacks Investment Research? Today, you can download 7 Best Stocks for the Next 30 Days.
Click to get this free report
Adecoagro S.A. (AGRO): Free Stock Analysis Report
ConAgra Foods Inc. (CAG): Free Stock Analysis Report
Archer-Daniels-Midland Company (ADM): Free Stock Analysis Report
Limoneira Co (LMNR): Free Stock Analysis Report
To read this article on Zacks.com click here.
Zacks Investment Research