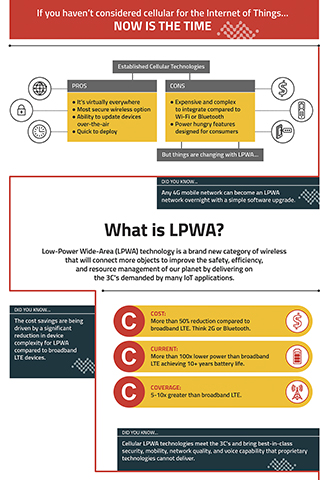 VANCOUVER, British Columbia--(BUSINESS WIRE)--Sierra Wireless (NASDAQ:SWIR) (TSX:SW), a leading provider of fully integrated end-to-end solutions for Internet of Things (IoT) applications, today introduced AirPrime® HL and WP Series cellular modules for Category-M1 (Cat-M1) and Category-NB1 (Cat-NB1) LTE networks. Sierra Wireless' solutions support the 3GPP standard for low-power wide-area (LPWA) technologies, which was designed specifically to enable new IoT services that promise to improve everyday life (see infographic).
Tweet this
For businesses developing IoT applications for markets such as energy, transportation and smart cities, Sierra Wireless' LPWA solutions will:
Simplify wireless integration and system development with cloud-connected modules;
Lower the cost and power consumption of devices; and
Enable reliable and resilient connectivity links for locations with coverage challenges, such as deep indoors and in rural areas.
"Having shipped more than 120 million cellular modules, no one understands the challenges that businesses face in deploying IoT services better than Sierra Wireless," said Dan Schieler, Senior Vice President, Embedded Solutions for Sierra Wireless. "LPWA technologies eliminate many of those challenges because they allow cellular to address a broader range of use cases, making it cost effective to connect billions more devices. Our essential and smart application processing LPWA module options make it easy for existing customers to expand their deployments and for new customers to begin designing connected IoT products in applications where cellular previously wasn't a fit."
Sierra Wireless has been working with the 3GPP, a global cellular standards development organization, since 2010 to develop a cellular standard for IoT. With the commercialization of Cat-M1 and Cat-NB1 LPWA technologies, cellular is now a superior option for many IoT applications that were previously restricted to short-range technologies due to cost and battery life. LPWA technologies now combine lower cost, broader coverage and better battery life with the globally available and...
More