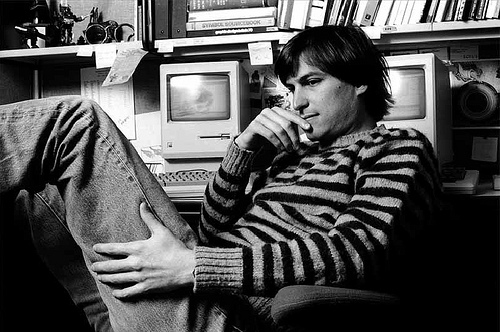 Image Credit: Flickr
Steve Jobs. Mark Zuckerberg. Bill Gates.
These are arguably the most well known names in media and founders of some of the top tech brands ever created. Apple (NASDAQ: AAPL) and Microsoft (NASDAQ: MSFT) are two of the top grossing media brands in existence. More than 1 billion people have a Facebook (NASDAQ: FB) account.
Famous for their entrepreneurship and the huge companies created in the wake of their successes, these men have a lot in common. However, they share a trait that some of their customers may not know about.
These three men did not finish college.
The successes of Jobs, Zuckerberg and Gates over the years are tremendous, which raises the question: Do people need a college degree in order to be successful?
According to Wisconsin Gov. Scott Walker (R), the answer is no.
In an interview with Fox News' Megyn Kelly, Walker claimed "elitist" commentators are trying to undermine a potential 2016 Presidential campaign by questioning his educational merit.
Walker dropped out of Marquette College in Milwaukee, W.I. in 1990, during his senior year to pursue a full time position at the American Red Cross and focus on politics, according to Yahoo News.
Recently, former Democratic National Committee Chair Howard Dean brought into question how qualified Walker is in terms of his education, Yahoo News reported.
"I worry about people being president of the United States and not knowing much about science," Dean said on MSNBC. "I worry about that."
However, Walked maintains his lack of college degree does not prevent him from succeeding in his political endeavors.
"We have people who helped found Microsoft, Apple, Facebook, plenty of other successful businesses and enterprises across this country who did the exact same sort of thing I did," Walker said on Fox. "I've got two sons in college. I hope they finish. I expect that. … We value college for those who want to pursue a career, but in the end you don't have to have that."
Further, Walker turned the criticism of his own qualifications into a stab at President Obama, Yahoo News reported.
"We've had an Ivy-trained lawyer in the White House for six years who's pretty good at reading off the teleprompter, but has done a pretty lousy job leading this country," Walker said. "I'd rather have a fighter who's proven he can take on the big government special interests and win."