Controls business serves chemical, mining, energy customers
Purchase follows Emerson's recent asset sales of $5.2 billion
Emerson Electric Co. agreed to buy Pentair Plc's valves and controls business for $3.15 billion in cash, broadening its focus on industrial automation under a year-old plan to overhaul operations.
The unit will complement Emerson's existing valve and actuation business and lead to cost savings, Chief Executive Officer David Farr said Thursday on a conference call. The Pentair unit serves customers across the chemical, power, mining and oil and gas industries.
"It really gives us a much stronger hand," he said. "We can take the best of each of our businesses and really have a strong growth opportunity."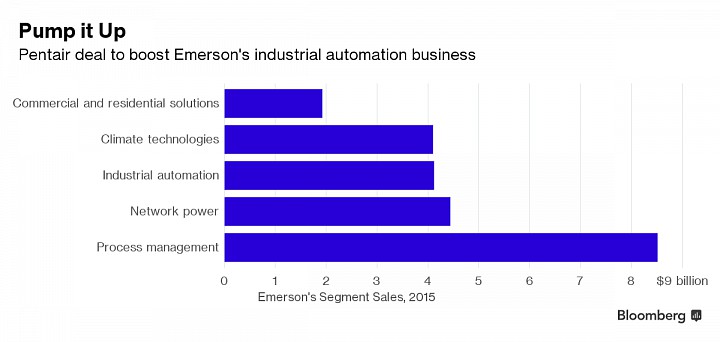 The move extends a major portfolio revamp at Emerson that includes the recent sale of businesses for $5.2 billion. The St. Louis-based company, which makes products such as garbage disposals and wireless meters for pipelines, announced a plan in June 2015 to cut costs and exit underperforming businesses.
Emerson has faced headwinds this year from a sluggish global economy, causing the company to fall short of analysts' fiscal third-quarter profit estimates and to lower its adjusted-earnings target for the year.
More