Bitcoin has completed a double bottom, and has been edging higher. We can expect some more upside risk to come, but within a medium-term sideways market.

Bitcoin (BTCUSD) 4H chart 10/3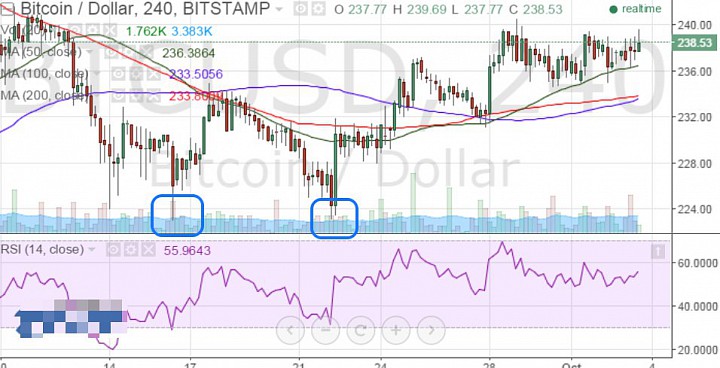 (click to enlarge)

The 4H chart shows the double bottom that formed a couple of weeks ago. This past week, price climbed above the double bottom and has been drifting to 240.00. I still want to see a test of the double bottom to be more confident of the upside because the recent rally has been choppy. Although the bounce off of 232, and the cluster of moving averages on the 27th-28th in September was a good sign of bulls taking control of this market at least in the short-term.

Bitcoin (BTCUSD) Daily Chart 10/3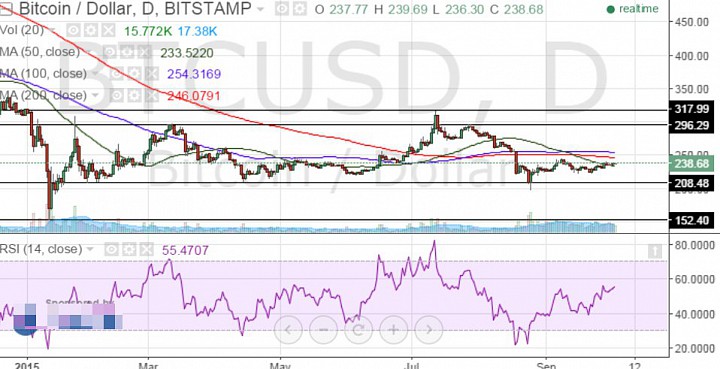 (click to enlarge)

The daily chart shows that price action in the long medium-term (since the beginning of the year) has turned sideways after a bearish second half of 2014. 

From the action in the 4H chart, I think bitcoin has upside risk towards the 300 area, but has some short-term downside risk back towards the double bottom we saw in the 4H chart.

If price indeed slides back this coming week, I would look for support around the 230 area, and allow some elbow space down to 220. Below that, I would suspect some bearish push to test the support around 200. Below 200, we can expect a slide towards the 152.40 low.