This Is What Needs To Happen For Oil Prices To Stabilize
On September 10th the EIA reported a production decline in the Lower 48—essentially shale production—of 208,000 BOPD. That is a staggeringly enormous number, approximately 10 percent of the estimated global over-supply. Additionally, it was a week-over-week number which makes it all the more impressive. Yet it received little attention through the week. Rather, Goldman Sachs Group Inc (NYSE:GS) was grabbing all the headlines with its $20 call on oil.
This week, I was looking for a possible correction in that number with a zero decline or possibly even a gain (remember, the EIA numbers are estimates). But instead we got another decline of 35,000 BOPD.
Back in June I wrote about the coming decline. Shale oil wells lose a lot of production up front, maybe 70 percent in the first year before tapering off at a 5 to 10 percent annual decline over the next few years until leveling off for the life of the well—maybe 20 years or so out. You can think of it as a slope. Once you crest it, the drop is precipitous and picks up speed before finding a bottom. We are undoubtedly now racing down that slope.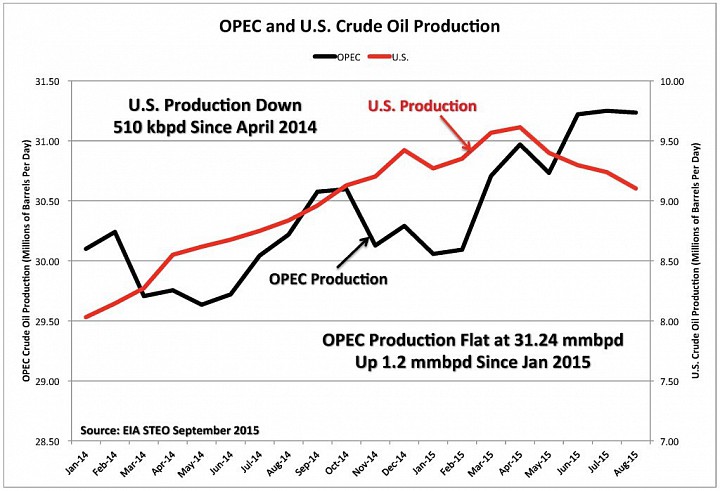 To date, we have lost about 500,000 BOPD in the Lower 48. We will lose that again before the year is out. Pundits will claim otherwise, suggesting that oil in the 50's or 60's will spur activity. But if that activity is in drilling, we won't see any effect for a half a year or so. If it is in fracking drilled but uncompleted wells ("DUC's"), that won't mean much either over time. DUC's have been the story of 2015 though they have had little effect on stopping the declines being put in.
Back when the onslaught began, which I mark as Thanksgiving Day 2014—when OPEC declined to cut—Wall Street began talking of shale as being a switch; as in you can turn it on and off. Well, in the perspective of a remote offshore project and the 10 years that it takes to bear fruit, then the answer is yes. But shale is not a switch when it comes to controlling commodity prices, which are much more impatient. It took a full 6 to 7 months for the falling rig count to cast a shadow over production declines. And even then the initial declines were shallow, more of a cresting action really. So, going forward, we may have a new metric. That is, a sudden decline in rigs will take 6 to 9 months to show up in production in any meaningful way.
We also still have a somewhat uneducated media that continues to shrug off its homework. We're about a year into this bear market and oil has been covered to death on the financial news but it is still being misreported. As I mentioned above, the thought that $60 causes a switch to be thrown...
More