As we wrap up the European session, the euro is rallying. There is strength in the currency despite disappointing ZEW economic sentiment data out of the EU, especially from Germany. 

EU ZEW Economic Sentiment
September: 5.4
Forecast:6.7
Previous:4.6
German ZEW Economic Sentiment
September: 0.5
Forecast: 2.8
Previous: 0.5

You would think these flat readings could be a drag on the euro. The thing is, the market is focused on the fact that Draghi is out of bullets and that the ECB is probably incapable of implementing more loose monetary policy. With the euro strengthening, the EUR/USD is about to break out of a coiling pattern ie. triangle.

EUR/USD 1H Chart 9/13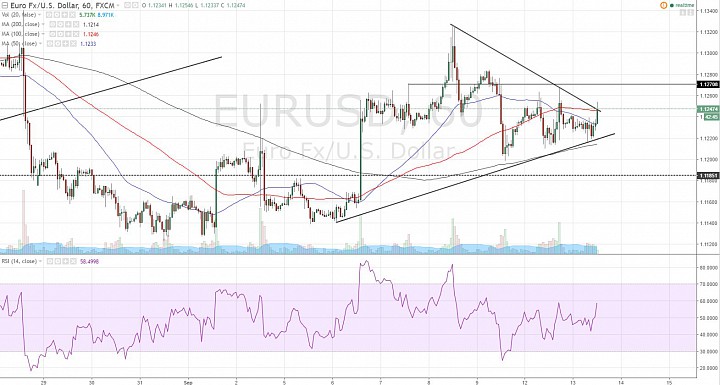 (click to enlarge)

Broken triangle and the 1.1270 resistance:
- The 1H chart shows price trying to break out of a falling resistance.
- If price clears 1.1250, it would break above the falling trendline and clear the cluster of simple moving averages.
- I would look for more clues before deciding that EUR/USD is bullish, although the fact that there was a bullish swing last week does provide some bullish bias in the very short-term. 
- Now, a break above 1.1270 would be an even stronger clue that EUR/USD is bullish in the short-term.
- This would open up the 1.1320 area, with risk of extending higher, 
- Also note that the RSI is still under 60. This suggests that the prevailing bearish momentum from the end of last week is still intact.
- A break above 60 would suggest a loss of that bearish momentum.
Failure:
- If price fails to clear 1.1270, or if it does and immediately falls back below 1.1230, I would reconsider the bullish outlook. 
- A break below 1.1220 should open up a bearish outlook with the 1.1130-1.1140 lows in sight in the short-term, with the possibility of extending to the 1.11 handle.