Facebook Inc FB COO Sheryl Sandberg in a sit down interview with news site Axios has expressed anger over how Facebook was misused by Russian factors to meddle with the 2016 elections and said that Facebook "owes an apology" to America.
Reportedly, Sandberg further stated that Facebook is now more "determined" to prevent a recurrence in the future and in favor of making the Russian linked ad details public. However, she did not say when the company will do so.
However, she refrained from answering questions, which required an explanation if there was any "overlap in targeting between Trump's campaign and fake accounts on Facebook."
Facebook, Inc. Price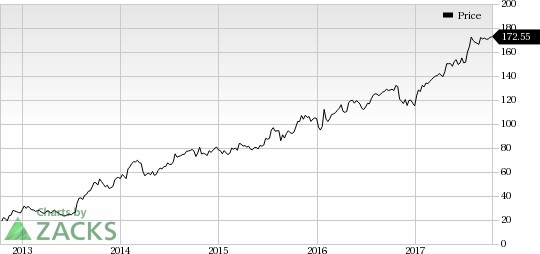 Facebook, Inc. Price | Facebook, Inc. Quote
Last month, Facebook revealed that it had identified Russian accounts spending nearly $100,000 in ads (over 3K), which coincided with the U.S. election (from June 2015 to May 2017). This caused a massive uproar and now the government machinery wants to impose stricter regulation on these social media companies.
These ads were mostly targeted at divisions on grounds of politics and social norms and often touched upon sensitive topics like immigration and racial issues, gun rights as well as LGBT matters. Facebook added that about 10 million users have watched the Russia-backed ads.
Facebook furnished extensive records on Russian ad spending during U.S. Presidential elections to special counsel, Robert Mueller and subsequently to the Congress.
Sandberg's interview is the first of its kind by a top level Facebook executive since the fiasco.
Not just Facebook, even Twitter TWTR and Google are also in the eye of the storm since the elections for dissemination of fake news that allegedly influenced elections. Twitter also revealed that it had found over 200 accounts related to Russian factors/bot network.
These companies are battling extensive PR damage. Moreover, pressure from governments of various countries including France, Germany (which goes into election a few days from now) and Britain to curb the spread of fake ads/news and extremist activities on their platforms is mounting.
The interview comes right before the House hearing where executives from Facebook, Twitter and Google are expected to testify, per media reports.
Zacks Rank & Share Price Movement
At present, Facebook carries a Zacks Rank #2 (Buy). Year to date, Facebook's shares have generated return of 50% compared with the industry's gain of 25.5%.

Stocks to Consider
Better-ranked stocks in the broader technology sector include Applied Materials AMAT, and Jabil Inc JBL. Both sport a Zacks Rank #1 (Strong Buy). You can see the complete list of today's Zacks #1 Rank stocks here.
Long-term earnings growth rate for Applied Materials and Jabil is currently projected to be 17.1% and 12%, respectively.
4 Stocks to Watch After the Massive Equifax Hack
Cybersecurity stocks spiked on recent news of a data breach affecting 143 million Americans. But which stocks are the best buy candidates right now? And what does the future hold for the cybersecurity industry?
Equifax is just the most recent victim. Computer hacking and identity theft are more common than ever. Zacks has just released Cybersecurity! An Investor's Guide to inform Zacks.com readers about this $170 billion/year space. More importantly, it highlights 4 cybersecurity picks with strong profit potential.
Get the new Investing Guide now>>
Want the latest recommendations from Zacks Investment Research? Today, you can download 7 Best Stocks for the Next 30 Days.
Click to get this free report
Facebook, Inc. (FB): Free Stock Analysis Report
Twitter, Inc. (TWTR): Free Stock Analysis Report
Applied Materials, Inc. (AMAT): Free Stock Analysis Report
Jabil Circuit, Inc. (JBL): Free Stock Analysis Report
To read this article on Zacks.com click here.
Zacks Investment Research