After yesterday's unexpectedly strong 2 Year auction, and coupled with the latest market selloff, there were few dark skies ahead of today's auction of $35 billion in 5 Year paper. Furthermore, suggesting today's auction would be very strong was today's repo market which saw the 5Y trading special at -0.15% on the curve, just begging for a short squeeze into the auction.
That is precisely what happened: pricing at 1.467% moments ago, essentially unchanged from last month and 0.9 bps through the When Issued, with a Bid to Cover jumping from 2.34 to 2.57 (and above the LTM average), today's 5Y issue was a very strong auction with few concerns that foreign investors and/or central banks may be stepping away.
The internals were also impressive: while Directs took down just 5%, Indirects aka foreign bidders were left with 63.5% of the issue, well above the 57.9% TTM average, and the second highest Indirect bid of 2015 lower only than July's 67.5%.  Dealers were left with 31.5% of the paper.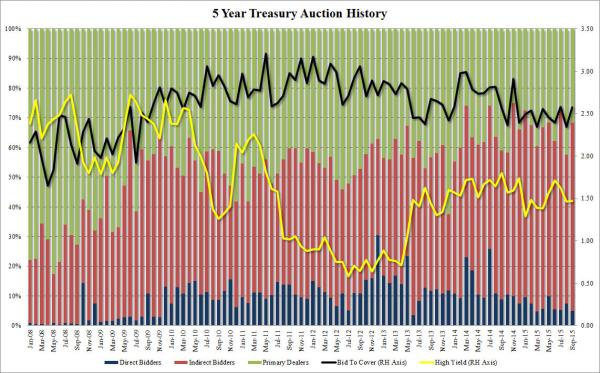 Finally, assuming no material changes in the demeanor of the market over the next 24 hours, expect tomorrow's 7Y auction to also proceed without a hitch. In fact, the more the general sense of risk-off, the strong tomorrow's auction will likely be.