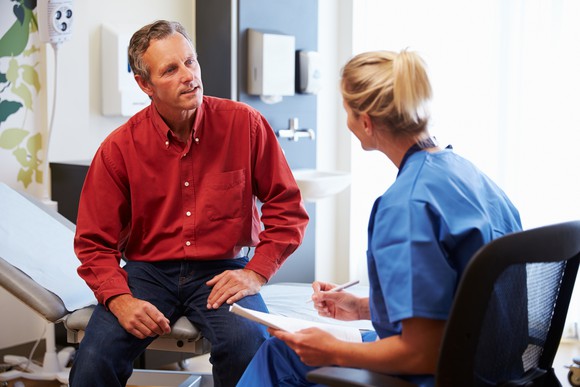 This round of our ongoing Better Buy series pits two up-and-coming biotechs, Juno Therapeutics (NASDAQ:JUNO) and bluebird bio (NASDAQ:BLUE), against each other.
Platforms in the making
Both Juno Therapeutics and Bluebird are developing drug development platforms that can be used to develop additional therapies using the same techniques.
Bluebird's lead products are based on gene therapy: Blood stem cells are taken out of the patient, infected with lentiviruses that inject copies of a gene into the cells. The gene expresses a protein that compensates for a mutation in the patient's genome. Meanwhile, the patients are exposed to drugs to kill off their mutated cells, and the cells with the new gene are put back into the patient where they engraft and start making new cells expressing the protein.
Bluebird first used this gene therapy technique with its Lenti-D therapy, which insets a gene called ATP-binding cassette subfamily D member 1 (ABCD1) into the cells to treat cerebral adrenoleukodystrophy, which is caused by mutations in the ABCD1 gene.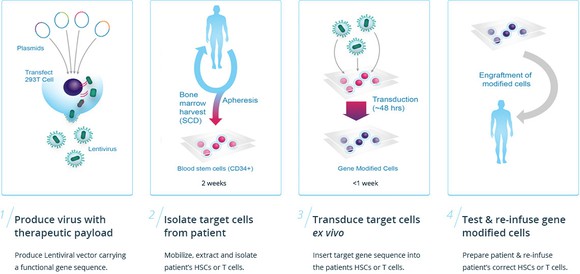 The biotech later improved on the gene therapy technique for its LentiGlobin treatment, which inserts the beta-globin gene. Beta-globin is a protein that's part of hemoglobin, which is responsible for carrying oxygen in blood cells. Increasing beta-globin expression can help patients with sickle cell disease and a rare blood disorder called beta-thalassemia. Both diseases are caused by mutations in the beta-globin gene.
Juno Therapeutics' CARs and TCRs platform also involves taking cells from...
More