Twitter (TWTR) has been in consolidation since 2016, which stopped the bleeding since its retreat from highs above 70. To me, the way it has been consolidating suggests price will break that 2016 low around 13.75.

Twitter (TWTR) Daily Chart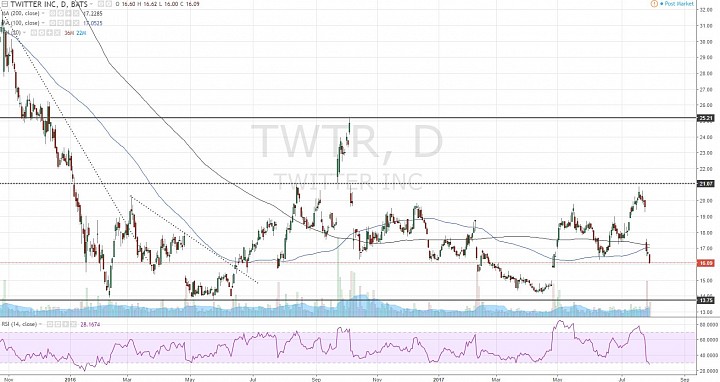 (click to enlarge)
Consolidation Story:
- 2016-2017 has been a period of consolidation.
- The daily chart reflects a failed bullish reversal attempt in September 2016. The subsequent pullback did not respect the "price bottom" and price eventually slid back towards that key 13.75-14 support area.
- Since May, we had another couple of recovery attempts that failed to push above a common resistance in the 20-21 area. Price didn't even make it back to the 25 area, the high of the 2016-2017 consolidation range.
- The failure to recover could lead to further downside risk, and that is why I think the 13.75-14 support area is going to be vulnerable after the May-July bullish attempt failed to break the 20-21 resistance.