Earnings season is about to roll into Detroit: General Motors (NYSE: GM) will report its second-quarter earnings result next Tuesday, July 25. Here's a look at what to expect.
What Wall Street expects 
Analysts polled by Thomson Reuters expect GM to report earnings of $1.69 a share on revenue of $41.23 billion. Both numbers are short of the $1.86 per share that GM earned (excluding special items) on $42.2 billion in revenue in the second quarter of 2016.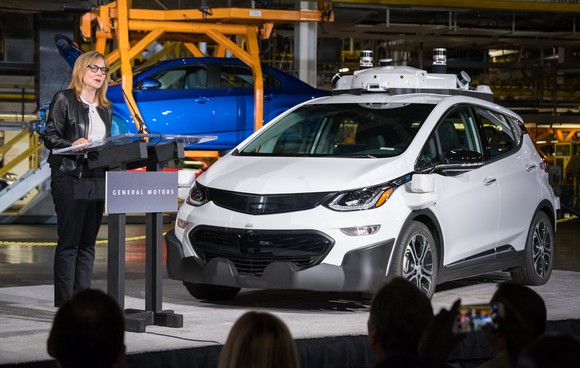 In June, CEO Mary Barra announced that GM had produced 130 self-driving Chevrolet Bolt EVs for its test fleet. Image source: General Motors.
What happened at GM during the second quarter
It was a busy quarter for the General. Among other key events:
GM announced that it had built 130 self-driving Chevrolet Bolt EVs in its Orion Assembly Plant in Michigan, the first self-driving cars built by an automaker in a regular factory.
GM shareholders voted down a proposal by hedge fund manager David Einhorn to split GM's stock into two classes of shares in an effort to boost the company's overall value.
GM said that it will extend summer shutdowns at two U.S. factories that build sedans to address rising inventories of slow-selling car models.
GM moved closer to completing the sale of its money-losing German subsidiary, Adam Opel AG, to French automaker Peugeot SA

(NASDAQOTH: PUGOY)

. 
About the Opel sale: In a briefing for analysts in late June, CFO Chuck Stevens said that GM will report Opel on a "discontinued operations" basis starting with the second quarter. GM will record a one-time charge of about $5.5 billion as a special item when the transaction closes, likely within a few weeks. 
Stevens also said during that briefing that GM now expects U.S. auto sales to finish the year in the "low 17 million" range, a step back from GM's earlier "mid 17 million" estimate. Despite the change, Stevens reiterated GM's upbeat full-year profit guidance, but with an implied note of caution.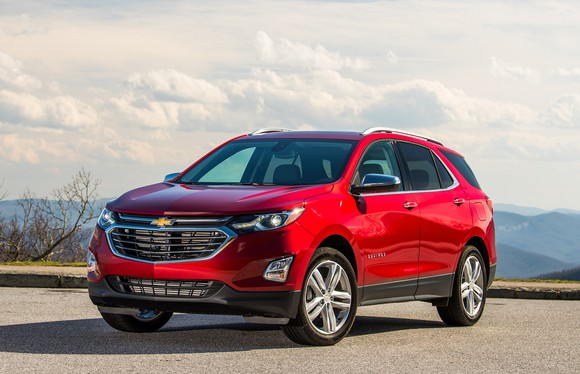 The all-new 2018 Chevrolet Equinox is one of a slew of new GM crossovers hitting the market this year. It's a hit: Equinox sales are up 10% this year through June. Image source: General Motors.
How GM's key businesses performed during the quarter
GM's sales performance in key global markets can help us understand how it likely performed financially. Here are the highlights: 
In the U.S., GM's sales fell 4% in the second quarter, but GM's average transaction prices remained strong as some competitors resorted to aggressive discounting. 
Opel may be on its way to Peugeot ownership, but its sales ups and downs are still GM's, and Opel's sales in Europe were down 8.1% in the second quarter.
In China, GM's sales rose about 0.6% in the quarter from the same period a year ago, but a look deeper shows a promising trend: Slipping sales of low-profit small vehicles have been more than offset by rising sales of higher-profit SUVs and Cadillacs. GM's equity income from its Chinese joint ventures could exceed the $471 million it brought home in the second quarter of 2016. 
Long story short: Improved product "mix" in China and strong pricing in the U.S. could largely offset (or even more than offset) the effects of the year-over-year sales declines in the U.S. and Europe. 
What should we expect for GM in the second quarter? 
GM's guidance calls for its earnings (minus special items) to come in between $6.00 and $6.50 for the full year, versus $6.12 per share on that basis in 2016. It earned $1.70 per share on that basis in the first quarter, up from $1.26 in the first quarter of 2016. 
I think that absent any surprises, of course, and given all that we've reviewed, it looks like GM will beat Wall Street's per-share earnings estimate. But after that big first-quarter profit, I won't be surprised if it falls short of the $1.86 per share it earned in the second quarter of 2016. 
10 stocks we like better than General Motors
When investing geniuses David and Tom Gardner have a stock tip, it can pay to listen. After all, the newsletter they have run for over a decade, Motley Fool Stock Advisor, has tripled the market.*
David and Tom just revealed what they believe are the 10 best stocks for investors to buy right now... and General Motors wasn't one of them! That's right -- they think these 10 stocks are even better buys.
Click here to learn about these picks!
*Stock Advisor returns as of July 6, 2017

John Rosevear owns shares of General Motors. The Motley Fool has no position in any of the stocks mentioned. The Motley Fool has a disclosure policy.