Imagine being able to customize a car to your specifications straight from the factory. I'm not talking about picking the color of the interior or exterior, I'm talking about choosing the design of the fender, spoiler, body molding, or even the interior of the vehicle.
This has always been the holy grail of 3D printing: being able to bring customization to the masses in products we see every day. Ford's (NYSE: F) new partnership with Stratasys (NASDAQ: SSYS) is taking a step toward making that vision a reality. And this could be just the beginning for 3D printing in high-profile manufacturing.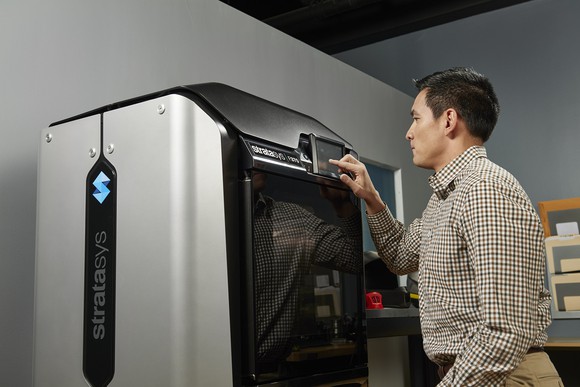 Worker operating a 3D printing machine. Image source: Stratasys.
Ford's move into large-scale 3D printing
Ford announced Monday that it's "exploring how large one-piece auto parts, like car spoilers, could be printed for prototyping and future production vehicles." It is using the Stratasys Infinite Build system to build large parts for prototyping, short-run manufacturing, and personalization of car parts.
Ford will set up the Stratasys system in its Research and Innovation Center in Dearborn, Michigan, and will explore how it fits into its business. Customized parts are part of the plan, but equally important will be the ability for engineers and designers to generate a computer design of a large part and...
More