Archer Daniels Midland Company ADM posted mixed results in second-quarter 2017, wherein the bottom line rose year over year and topped estimates after posting two quarters of negative earnings surprise. However, the company has been missing sales estimates for over three years now and disappointed this time too.

Owing to these trends, Archer Daniels has underperformed the Consumer Staples sector on a year-to-date basis. Evidently, this Zacks Rank #4 (Sell) stock has declined 7.6% against the sector's growth of nearly 10%.





Q2 Highlights

The company's second-quarter adjusted earnings of 57 cents per share soared about 39% year over year, and surpassed the Zacks Consensus Estimate of 52 cents. Results were driven by the company's focus on its strategic plan and efforts to exploit better conditions in some markets. On a reported basis, Archer Daniels' earnings remained flat at 48 cents.
Archer-Daniels-Midland Company Price, Consensus and EPS Surprise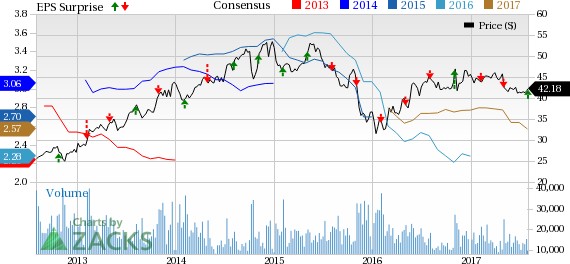 Archer-Daniels-Midland Company Price, Consensus and EPS Surprise | Archer-Daniels-Midland Company Quote
Total revenue of $14,943 million dropped 4.4% year over year, with lower year-over-year sales at all segments. Moreover, the top line missed the Zacks Consensus Estimate of $15,842 million thus continuing with its miserable surprise trend.

Going by segments, quarterly revenues at Archer Daniels' Agricultural Services segment were down 8.4% to $5,848 million, the Corn Processing segment's revenues fell 3.3% to $2,274 million and the Oilseeds Processing segment's revenues dipped 0.4% to $6,072 million. Further, the Wild Flavors and Specialty Ingredients segment suffered a 4.7% decline in revenues to $648 million and Other revenues fell 9% to $101 million, all on a year-over-year basis.

Operational Discussion

Archer Daniels reported adjusted segment operating profit of $658 million in second-quarter 2017, up 14.8% from the year-ago quarter. On a GAAP basis, the company's segment operating profit declined 5.6% year over year to $642 million.

On a segmental adjusted basis, operating profit for the Agricultural Services segment surged a whopping 91.2% to $109 million, as strong merchandising and handling results were backed by solid North American performance, thanks to strength across wheat, corn and soybeans. Milling and Other operations remained robust too, backed by favorable margins and merchandising. This was partly offset by weakness in Transportation results.

Archer Daniels' Corn Processing segment's adjusted operating profit grew 37.4% to $224 million. Results benefited from strong volumes and enhanced margins at North America Sweeteners and Starches. Further, favorable ethanol margins drove Bioproducts results.

The Oilseeds Processing segment's adjusted operating profit decreased 12.3% year over year to $206 million. Results were hurt by reduced global soybean crush margins as well as lower South American origination margins. Together, these factors hampered Crushing and origination results. This, however, was somewhat compensated by improved Softseeds results and strong Refining, Packaging, Biodiesel and Other operations. Moreover, results in Asia continued to gain from Wilmar's contributions.

The Wild Flavors and Specialty Ingredients segment's adjusted operating profit dipped 2.1% to $92 million owing to hurdles in the specialty ingredients business. This was partly offset by double-digit rise in WILD Flavors' operating profit which was driven by superb worldwide sales.

Financials

Archer Daniels ended the quarter with $433 million in cash and cash equivalents. As of Jun 30, 2017, long-term debt including current maturities was $6,627 million. Shareholders' equity at quarter end was $17,418 million.

During first-half 2017, Archer Daniels generated $1,314 million of cash from operating activities.

Further, the company's trailing four-quarter average adjusted ROIC came in at 6.8%, up 80 basis points (bps) from the annual WACC of 6.0%.

Additionally, the company returned $875 million to shareholders in first-half 2017, in the form of share repurchases and dividend payments, remaining well on track with its balanced capital allocation plan.

Looking Ahead

Archer Daniels remains committed to strengthen its capacities and geographic spread, via buyouts and other organic expansions. The company also remains focused on efficient cost and capital management. Well, these factors drove the company's first-half results, enabling it to return value to shareholders. Notably, management stated that the company is ahead of track with its 2017 run-rate savings goal of $225 million. All said, management remains confident of achieving strong year-over-year earnings growth in 2017. Further, it is believed that the company is poised to emerge stronger in 2018.

Interested in Consumer Staples Space? Check these 3 Hot Picks

Post Holdings, Inc. POST, with long-term EPS growth rate of 14%, sports a Zacks Rank #1 (Strong Buy). You can see the complete list of today's Zacks #1 Rank stocks here.

Limoneira Company LMNR, with a solid earnings surprise history, carries a Zacks Rank #2 (Buy).

Calavo Growers, Inc. CVGW, also with a Zacks Rank #2, has outperformed our earnings estimate by an average of 4.7% in the trailing four quarters.

Will You Make a Fortune on the Shift to Electric Cars?

Here's another stock idea to consider. Much like petroleum 150 years ago, lithium power may soon shake the world, creating millionaires and reshaping geo-politics. Soon electric vehicles (EVs) may be cheaper than gas guzzlers. Some are already reaching 265 miles on a single charge.

With battery prices plummeting and charging stations set to multiply, one company stands out as the #1 stock to buy according to Zacks research.

It's not the one you think.

See This Ticker Free >>
Want the latest recommendations from Zacks Investment Research? Today, you can download 7 Best Stocks for the Next 30 Days.
Click to get this free report
Calavo Growers, Inc. (CVGW): Free Stock Analysis Report
Post Holdings, Inc. (POST): Free Stock Analysis Report
Archer-Daniels-Midland Company (ADM): Free Stock Analysis Report
Limoneira Co (LMNR): Free Stock Analysis Report
To read this article on Zacks.com click here.
Zacks Investment Research